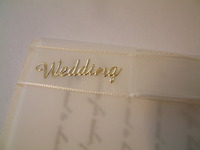 Sometimes, just when life is moving along splendidly, things happen that could change everything. My marriage is great, and life is good. I am the mother of three girls all of whom are engaged and getting married this year. This will be a good change. The planning for each is fun with each daughter having her own dreams and ideas. I look forward to watching each one take that first step into her future with the first wedding coming in May.
Then the shoe drops. My job of 15 years is in jeopardy, and the season of life that should be full of joy and anticipation instead becomes one of stress and anxiety. I have been a wreck emotionally, and I am continuously expecting to be let go. This has been taking a toll on both my emotional and spiritual well-being.
Then, I finally realized that I don't have to suffer through these problems on my own. I started praying not just for myself, but also for my boss and all that has transpired. Nothing seemed to happen right away, but I have kept praying, leaning on Proverbs 3.
Trust in the Lord with all your heart, and lean not on your own understanding; in all your ways acknowledge Him, and He shall direct your paths. Proverbs 3:5-6
Since choosing to pray that verse daily, my emotional and spiritual health are much better. In fact,  my job and my boss seem to be much better also! I know that no matter what, God has a plan for me, and He will not shut one door without opening another. I know I don't have guarantees in things working the way I think they should be, but I do know without a doubt that God really does come to our side and carries us through life's tough times.
I trust in your unfailing love, my heart rejoices in your salvation. I will sing to the Lord for he has been good to me. Ps. 13: 5-6
I am stronger because of His love, and with that love, I know I can face whatever is to come.