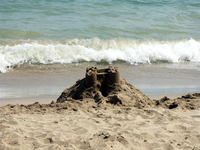 You just never know where you will find a treasure of inspiration. Today I'm reading a booklet, like a printed workshop, on writing. Toward the end, there's a bit about building sand castles, in the context of being complete in Christ, recognizing and living out our true identity in Him. This is where I've been the last several months: seeking and learning a full dependency on Him to provide.
 Let your gentleness be evident to all. The Lord is near. Do not be anxious about anything, but in everything, by prayer and petition, with thanksgiving, present your requests to God. And the peace of God, which transcends all understanding, will guard your hearts and your minds in Christ Jesus. ~ Philippians 4:5-7
I have no say over the work that comes my way, the contracts I receive, or the income that results. I place our finances in His hands. And He has rained down blessings on our household.
I have no control over the healing of loved ones. I need constant reminders to place them in His hands. He provides comfort and peace even while we wait to see the final outcome.
I work from home, which limits my contact with "real" people. I treasure that I am learning to rely on Him for companionship, trusting that He will bring those times of fellowship when most needed. And He has.
As a child, I loved treasure hunts. Walking with God is like that, I never know when He'll give an unexpected blessing or answer, but I know He will.
A few days ago, I saw a cartoon that provided a visual for an important truth I'd like to incorporate into my life more this year.
First frame: character says he'd like to hear from God.
Second frame: a hand stretches out from above, holding a Bible
At the foundation of living in full dependence and surrender to Him is His Word. My heart desires to spend more time in the Word daily, and yet I find it is a constant struggle to remember and put into practice. Won't you join me in pursuing Him well this year through His Word?
Your Word is a lamp to my feet and a light for my path. ~ Psalm 119:105