A Baby Changes Everything, part III
"The king of Egypt said to the Hebrew midwives, whose names were Shiphrah and Puah, 'When you are helping the Hebrew women during childbirth on the delivery stool, if you see that the baby is a boy, kill him; but if it is a girl, let her live.'" ~Exodus 1:15-16~

"Then Pharaoh gave this order to all his people: 'Every Hebrew boy that is born you must throw into the Nile, but let every girl live.'" ~Exodus 1:22~
Since the beginning of time, how many babies have been born in the midst of famine, poverty, natural disaster, slavery, or war?
How many parents longed to bring their children into better life circumstances?
How many agonized over the obstacles their kids would face?
How many grieved because they could not make the world a better place for their kids?
God also desired a perfect world for His children, but sin changed all that.
Yet though the world has become a very dark place, God hasn't given up on us. He sends us hope with every new life that grows up to bear His image.
No wonder Satan wages war against babies.

They are children of the one true King.

He targets them to unseat Him.

But to no avail.


For God—who delights in using the weak and foolish things of this world to shame the wise—can set Satan's malicious plans to naught through one precious child.

Amy Carmichael . . . Corrie Ten Boom . . . Hudson Taylor . . . C. S. Lewis . . . Darlene Deibler Rose . . . Eric Liddell . . . Dietrich Bonhoeffer . . . Jim Elliot . . .

Probably Satan didn't tremble when he saw these men and women as babes. Maybe he didn't recognize the resemblance to their Father then.

But he learned to fear them later in their lives.

As children of the one true King, their influence was beyond measure.
We, too, are may find ourselves targets of the unseen forces who wage war against our Father.

But fear not. "You are from God, little children, and have overcome them; because greater is He who is in you than he who is in the world." ~I John 4:4~
That's why God brought us into the world—that bearing His image, we may illumine the darkness wherever our spheres of influence happen to be.
So shine, little lights!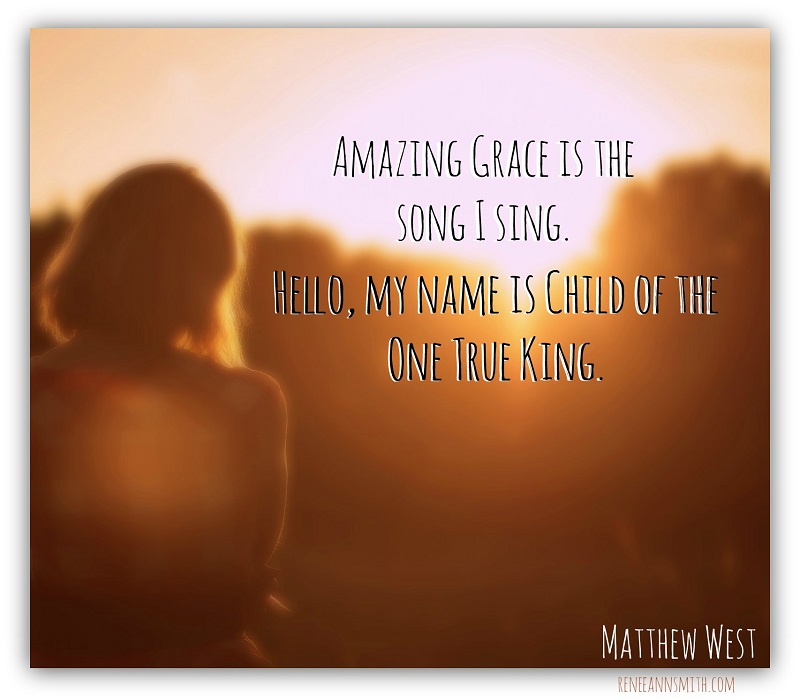 "Hello, my name is child of the one true King.
I've been saved. I've been changed. I have been set free.
Amazing Grace is the song I sing.
Hello, my name is child of the one true King."
by Matthew West