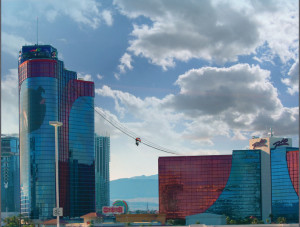 "…And so I found myself, shaking, slightly sobbing, standing on the deck of the 50th floor of the Rio hotel in Vegas wondering how I could have possible gotten myself into this."
You see, each year, my husband's company spends the better part of a week in Las Vegas, Nevada for annual meetings and this year, we decided to take advantage of a partially paid getaway and have a few days for the two of us before the meetings began. In looking for some fun and "wholesome" activities to enjoy together in this crazy city, we came across a Groupon for a half price zipline. Although I really dislike heights, I love thrill rides and if it is fast and exciting, I will do it.
We saved it for our last night and as the time approached, I began to feel a bit apprehensive as I thought about launching from the 50th floor of a hotel. This slight uneasiness heightened as we took a very slow glass elevator up to the 50th floor. By  the time we got off the elevator, I had begun shaking. As we made our way out to the open air deck, I began to quietly sob and made a quick beeline to the bathroom (both out of necessity and the need to hide my ridiculous erupting emotions!). When I rejoined my hubby, my fear continued to intensify as our names were called and we prepared to launch. And then it happened, I was suddenly flying through the air 30+ miles per hours with a huge grin on my face. The fear was gone, replaced by sheer joy and exhilaration!
Even as I write this story, I can feel my pulse slightly increase and my breaths a bit heavy. I even laughed as we told the kids when we got home, but sometimes our deep fears have no high flying end. Sometimes it is about something that really matters.  I have sat in intensive care watching my two year old baby struggle to breathe begging God to make it all okay. I have felt the overwhelming pain of a loved one's deep depression wondering how we would make it through. Have you ever been in that place where the fear of what lies ahead essentially immobilizes you? Sometimes verses can even feel trite and yet the truth of God's Word promises strength.
For God has not given us a spirit of fear and timidity but of power, love and self-discipline. 2 Timothy 1:7
I love this verse and in the moments when fear strikes our hearts, claiming God's power and love can be so comforting. His presence brings peace and vision. However, the third gift mentioned is self-discipline, a cultivated pattern of thought. It is this self-discipline that allows me to give Him my fear and feel His love and strength because my mind is focused on Him.
You will keep in perfect peace all who trust in you, all whose thoughts are fixed on you! Isaiah 26:3
As I choose to fix my mind–an act of self-discipline–on God over my circumstances no matter what they may be, I am promised peace. In this peace, I will not only find God's power but feel His overwhelming love fill my heart and mind.