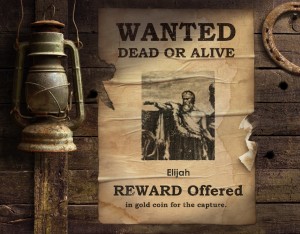 "… and Ahab went to meet Elijah. When he saw Elijah, he said to him, 'Is that you, you troubler of Israel?'" 1 Kings 18:16b-17
In Sunday School, we've been talking about the role of prophets, not only as foretellers of prophecy, but also as "forth tellers." They told the entire truth with no sugar-coating. Elijah was a forth-tellers.
Considering Ahab's greeting in the verse above, Elijah had every reason to be afraid of telling the truth. Jezebel had put a price on the prophets of God and he was one of God's top prophets. But instead of cowering when Jezebel's king called him a troublemaker, he threw the greeting back in his face.
"It's not I who has caused trouble in Israel …"
What followed was an epic duel between Elijah and the prophets of Baal – murderers of children and special pets to the queen. The Baal prophets' flamboyant-but-failed appeal to their god didn't shake Elijah. Instead, he taunted the false prophets. He even poured water on God's altar to prove there were no tricks. Then he prayed, asking God to show His power. The answer was immediate, annihilating the offering, the stones of the altar and the water that ran off into the trench.
At last, the spell was broken; the children of Israel remembered Who they served. When the last of the false prophets died, God broke the seven-year drought and brought rain to His parched land.
Yet instead of giving Elijah a medal, Ahab ran home to tell his wife the bad news: her special darlings were dead and the nation she once ruled with the fist of her stone idol had abandoned her. So furious Jezebel put a price on the prophet's head.
It was only then that Elijah became afraid. Even though God eventually made sure that Ahab and Jezebel paid the price for leading His nation away, the danger of Elijah's message could have cost him his life.
Telling the truth doesn't win friends or guarantee success in your career. In fact, it usually promises the opposite. But we're still commanded to do it.
Are you a forth-teller? What has it cost you to tell the truth? How has it blessed you?

This content is exclusively for the blessing of Mesu's BFFs. Please enjoy but don't share on social media — unless it's on our private Facebook page.