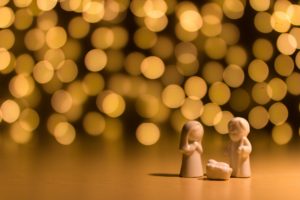 I've never experienced a Christmas like this one, nor will I ever again. Steeped in the lives and times of Isaiah, Hezekiah, and Hephzibah, I've read and re-read Isaiah's Messianic prophecies and wondered what he thought about the words tumbling out of his mouth.  
Did he believe Hezekiah was the One he proclaimed—as I portray in my book—or did Isaiah have an inkling that God's ways were indeed so much higher than his meager understanding? 
"As the heavens are higher than the earth, so are my ways higher than your ways and my thoughts than your thoughts." Isaiah 55:9 
Of course, we can't know the mind of Isaiah any more than we can know the mind of God. But it's fun to imagine, isn't it? Today—on the day men have set aside to commemorate the Messiah's birth—let's ponder together the prophecies Isaiah spoke. Consider how they might have sounded to him as he watched Hezekiah grow up and then prophesied during his reign. Then, consider how those during Jesus' ministry might have understood—and misunderstood—these same words recorded by God's most prolific prophet. 
Which of Isaiah's prophecies is most intriguing to you? Why?

 

Which do you think Isaiah might have thought most likely described Hezekiah? Why?

 

Which do you think Isaiah knew couldn't have been Hezekiah?

 

Do you think Isaiah's prophecies strengthened his personal faith or tested it? Why?

 

Which of Isaiah's prophecies (listed here) is dearest to you? Why?

 
I would encourage you to use these questions today as a spring board for discussion with family members if the Lord opens the door of opportunity for you. Our two best opportunities to share the love of Christ are the days we celebrate His death and His birth! Make the most of this precious celebration. My heartfelt love and appreciation to each one of you. May you all have a very blessed Christmas.