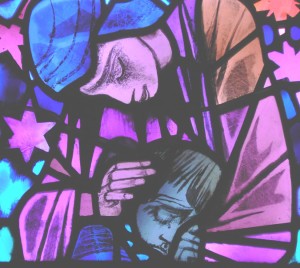 Just last week I was awakened in the middle of the night by our precious five old. As he tapped my shoulder calling me from slumber, his small voice whispered, "Mom, can I hug you?" I responded with outstretched arms that pulled in close beside me as I sat up at the edge of the bed. As he snuggled into my arms, his arms wrapped tightly around me, he once again whispered, "Can we just sleep like this?" And so I lay back on my bed holding this sweet boy, listening to gentle breathing, imagining it just doesn't get any better!
You see, our house is mostly full of teenagers – great kids – but teenagers! They are continually on the go, always in need of something, trying to navigate their way to independence. This whirlwind of adolescence sometimes feels like pure chaos!  And so, those quiet hours holding a contented little one who only wanted to be close to me, filled this mom's heart with simple deep joy.
As I continued to bask in that joy the next morning, one of my favorite Psalms came to mind:
O Lord, my heart is not proud, nor my eyes haughty;
Nor do I involve myself in great matters,
Or in things too difficult for me.
Surely I have composed and quieted my soul;
Like a weaned child rests against his mother,
My soul is like a weaned child within me.
O Israel, hope in the Lord
From this time forth and forever. Psalm 131 (NASV)
God calls me to come before Him with the heart of a child, eager to rest my busy – and at times weary – soul against Him, letting His strength and mighty love fill me. I love how this Psalm begins acknowledging our need – we are so tempted to be filled with pride or to let attitudes of contempt and frustration creep in. We can be so easily worried, anxious, taking on the weight of the world. And yet as David comes to God, he seeks to come humbly, letting go of everything beyond his control, realizing it is okay not to have it all figured out!
Once he acknowledges what he is letting go of, David moves to portray what he is holding on to. "Like a child rests against his mother…"
Contentment, peace and fulfillment fill those at rest in God.
The final line calls me to put my hope- every deep yearning and desire – in the Lord each and every day.
This Psalm is a Song of Ascent indicating it was sung by the Hebrew people as they came together to worship at feasts and festivals. Literally, they were sung as the people "ascended" to a place of worship.  I wonder how many times parents were heard telling their children the stories of Moses, of the faith of Jochebed and Mered as they sang of resting and hoping in God. Their stories are filled with "great matters" and "things to difficult for me." As their story of faith has come to life on the pages of The Pharaoh's Daughter, it encourages my heart to embrace the reality of Psalm 131 –
I will choose to let go of what I can neither handle or control; I will choose to still and quiet my heart before my God; and I will choose to put my hope in Him.
Perhaps the greatest beauty in all of this is that our incredible Heavenly Father finds great joy when we, His kids, just rest in His lap.
Will you come to Him today with arms that reach up and just ask to be close, letting Him hold you through whatever the day may bring?
Are you willing to trade your fears and worries for His peace and joy that comes when our hope is in Him?