"If I dwell in the remotest part of the sea,
even there Your hand will lead me,
and Your right hand will lay hold of me."
~Psalm 139:9b&10~
How do you like to enter the water?
Nowadays I'm a cautious, toe-dipping, a smidgeon-at-a-time kind of gal. But when I was young I couldn't wait to jump in with both feet.
On hot summer days, my family would get together for Smith-nics. (Clever name, right?) The kids would spend most of the day in the water. But at a certain time, my dad and his three brothers would head for the pool. While they were immersed, you could remain near them only if you didn't splash, play, swim, breathe, etc., while they . . . bobbed.
I was always amazed to see those four big men slowly lower themselves into the pool. I used to wonder how the water could hold their weight. I took for granted that it would hold me up. But those big guys trusted the water for support, too? As a child, I figured they entered the pool so cautiously because maybe one day it really wouldn't hold them, and they would sink instead of float!
I love this quote by missionary Lilias Trotter which brings me back to those days:
"'I am come into deep waters' took on new meaning this morning.

It dawned [on me] that shallow waters were a place where you can neither sink nor swim. In deep waters it is either the one or the other.

Swimming is the intensest, most strenuous form of motion.

All of you is involved in it, and yet every inch of you is in abandonment of rest upon the water that bears you up."
That quote makes me picture a child who is over his head in the deep end,
doggy-paddling for all he's worth,
and all the time he's being held afloat by the arms of a loving father.
What a great metaphor for our life in Christ!
I guess the problem is that we can't really experience this fully
if we stick to the shallows.
We have to push through the fear
that maybe this time the water won't support our weight,
and go deep.
Miss Trotter's words also remind me why God rightly receives the glory for all we do.
We busy ourselves with the things of the Lord—Bible study, prayer, assembling together with other Christians, outreach, using our gifts and talents—but it's the Holy Spirit who enables it all.
Lilias Trotter learned this truth during her life as a missionary. Born in 1853 to an affluent English family, she eventually became a missionary to the Muslims in Algeria, in spite of a heart problem plus the dangers and difficulties for women in the Muslim culture.
You can read her story in Miriam Rockness's book, A Passion for the Impossible.
***I made the graphic from an iPhone pic of the pond on my high school campus. If you click on the photo, it will display for better viewing. You can right click and use "Save Image As" if you'd like to download & share.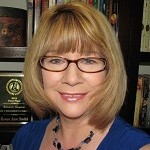 Renee Ann Smith teaches English in a Christian high school by day and writes devotionals & inspirational stories by night. You can find her at her blog Doorkeeper.