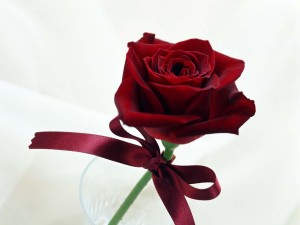 Just last week, America celebrated Valentine's Day. A day where we are supposed to acknowledge those we love in our lives. It is a day when romance is in the air and everything is hearts and flowers.
I hate Valentine's Day. Well, hate is a strong word, but we can safely say it is far from my favorite holiday. Why is that, you may ask. I have a wonderful husband. My kids actually enjoy my company, at least most of the time. I have a close knit, loving extended family, including my in-laws. Above all, God loves me.
So why do I dislike the day devoted to love?
Because, I have always felt unlovable. I am always afraid that if others really look at me, they will turn away. I know it isn't true. I am loved. I always have been. So what am I so afraid of?
There is no fear in love, but perfect love casts out fear, because fear has to do with punishment. The one who fears is not made perfect in love. 1 John 4:18
I am afraid because I am unworthy. We all are. We all fall short of perfection. But when I look at myself, that is all I see, the shortcomings, the not-quite-good-enough feelings. In my head, I know it isn't true, but my heart is never quite sure. So I hide those defects and flaws, tuck them away where they won'tbe seen.
I have learned to accept parts of myself that I once scorned. I have even learned to like myself, for the most part.
But there is always that niggling doubt that I'm not quite good enough.
For God did not send his son into the world to condemn the world, but to save the world through him. Jn 3:17
It constantly amazes me how God assures me of His love. He can see every impure thought, every unworthy feeling, and every sinful action, but insists on loving me just the same as He always has. He doesn't stop because I am unworthy.
He shows me His love in little ways, like the tiniest details of a flower or the sun shining through the perfect clarity of an icicle. He shows me in the hugs of my children and the warmth of my home and the blessing of bills being paid when there is no money in the bank.
I sought the Lord and he answered me; He delivered me from all my fears. Ps 34:4
I don't know that anyone can truly grasp the extent of God's love for us. I may never be able to understand His unconditional love for me. So I choose to trust His words more than my feelings. I choose to seek His face and accept His truth. It is a daily, hourly battle to trust His love. If I can learn to accept His perfect love, maybe I will even learn to like Valentine's Day. Maybe.
Where do you see evidence of God's love in your life?