"Come to me, all you who are weary and burdened, and I will give you rest. Take my yoke upon you and learn from me, for I am gentle and humble in heart, and you will find rest for your souls. For my yoke is easy and my burden is light." Matthew 11:28-30
Driving down a curvy country road on the way to take my mother to the doctor, I saw a small dog in the middle of my lane. I slammed on brakes and flung out my arm (knowing it would hold my aging mom better than her seatbelt). As we skidded to a stop, I expected to see the tiny Chihuahua run off into the bushes. Instead, she continued plodding down the middle of the road – one tiny white foot after the other.
No collar, no microchip, no owner claimed her. Her ribs were showing and her hair was matted. There's no telling how long she'd been on her own. She was half-blind, half-starved and stunk to high-heaven. So of course I took her home.
A month-and-a-half later, Lily has begun to answer her new name. She occasionally wags her tail but most of the time she sleeps. No one answered my Found Dog post, but she's finally found a safe place to rest – with us.
Jehosheba, the heroine from In the Shadow of Jezebel, lived in opulent luxury. She had her choice of any delicacy. A princess of one of the richest countries of her time, her closet was full of the rarest silks and jewels. You wouldn't think that Sheba and Lily had much in common. But it wasn't until both lost everything that they found a place to rest. Secure in her husband's arms, Sheba still struggled with the wounds of her past just as Lily struggled to in my own arms. While my imperfect love has begun to heal my dog's heart, as Mesu wrote In the Shadow of Jezebel, God's perfect love healed Sheba's.
Sometimes it takes make-believe stories to heal our real-life hearts. Have you ever read a novel that restored your spirit? Share your experiences in the comment section below.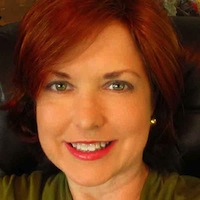 About Angie Arndt
Angie fell in love with biblical fiction in junior high. Now, just a couple of years later, she lives in South Carolina with her hubby and three four big (in spirit if not in body) dogs in the middle of a big wood.