Fall is often the time for new adventures.
But what about when something new and exciting is happening for everyone else—except for you?
Your little one hops the bus to begin a new grade in school.
Or your young adult packs his car and heads for college.
And you are left behind.
One friend finally sees her dream come true.
A second accomplishes a long-sought goal.
Still another has a new look or a new job.
And you are foundering in the midst of the Same Old Thing.
Searching for patience with littles or aging parents as you repeat yourself again and again.
Performing thankless household tasks for the thousandth time.
Striving for joy in a job you never intended to keep.
Or sitting alone in an empty nest wondering how all those years slipped past.
What can we do when it seems that God's plans for Newness has passed us by?
Here are some tips to help re-NEW our joy!
1. Thank God that some things never change.
"Because of the Lord's great love we are not consumed, for his compassions never fail." ~Lamentations 3:22~
"God's love endures forever." ~Psalm 136~
"Jesus Christ is the same yesterday and today and forever." ~Hebrews 13:8~
"As long as the earth endures, seedtime and harvest, cold and heat, summer and winter, day and night will never cease." ~Genesis 8:22~
2. Thank God for the things He does in secret.
Be assured God is working in our lives—even now—doing things that we are not yet aware of. He is growing the fruit of the spirit in us, and the first shoots those seeds send forth are often hidden from our eyes.
"The secret things belong to the Lord." ~Deuteronomy 29:29~
"He has made everything beautiful in its time. He has also set eternity in the human heart; yet no one can fathom what God has done from beginning to end." ~Ecclesiastes 3:11~
3. Ask God to help us spot the signs of Newness in our ordinary days.

God knows that we love a combination of change and permanence. Seasons are a perfect example. As C. S. Lewis wrote, "He gives them the seasons, each season different yet every year the same, so that spring is always felt as a novelty yet always as the recurrence of an immemorial theme."
"God's mercies are new every morning." ~Ecclesiastes 3:23~
"Forget the former things; do not dwell on the past. See, I am doing a new thing! Now it springs up; do you not perceive it? I am making a way in the wilderness and streams in the wasteland." ~Isaiah 43:18&19
A trickle of water might be easy to miss.
But in a wasteland, it makes all the difference!

So with us, when our spirits are dry.
All we need is a trickle of hope to let the Season of Sameness
work a new depth of gratitude in our hearts!
***I made the graphic from an iPhone pic. If you click on the photo, it will display for better viewing. You can right click and use "Save Image As" if you'd like to download & share.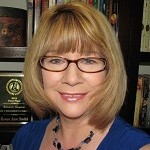 Renee Ann Smith teaches English in a Christian high school by day and writes devotionals & inspirational stories by night. You can find her at her blog Doorkeeper.