This week I went to a state park well known for its rocky cliffs and waterfalls. I hadn't been to this particular park in about twenty years and wanted to see how it had changed. Well, I don't think the park has changed much, but I sure have.
Twenty years ago, I was young, still in college with no one depending on me. My day was spent hanging out with friends, laughing, talking and I confess, breaking the rules, and playing in the river. I paid little attention to the beauty around me. It was nothing more than a new setting for the day's enjoyment.
Now I am a wife and mother of three teens. I have traveled, lived, and seen a lot of life. This week I walked through the park, alone among the crowds, temporarily free of distractions. Finally, I could see.
"Let the rivers clap their hands, let the mountains sing together for joy, let them sing before the Lord" Ps. 98: 8-9a
One image in particular grabbed my attention. A single daisy clung to a sheer wall while the rain-gorged river rocketed over a cliff to the rocks below. I may have overlooked it twenty years ago, but now it reminded me of how God's peace can shelter us from the raging torrent of life.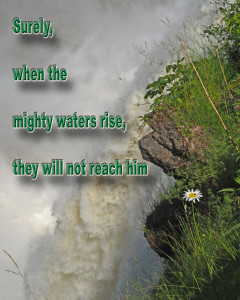 In the language of flowers, the Daisy stands for innocence. In this day and age, innocence, kindness, and gentleness are rarely found. This age of social media and 'progressive thinking' has stolen our innocence. We are surrounded on every side by hate, greed, lust, and false images of beauty. It is a flood that will sweep you away and drown you.
Yet God promised to shelter us and protect us from the corruption of the world.
"Surely, when the mighty waters rise, they will not reach him. You are my hiding place; you will protect me from trouble and surround me with songs of deliverance." Ps32: 6b-7
We have a choice to make. We can follow along like social sheep chasing after the loudest voice or the most enticing ways, or we can cling to the Rock that is higher and stronger than we are. God is an island of peace in a troubled world. We are called to be in the world but not of the world. If we cling tight to Jesus, he will keep a hedge about us that keeps us safe from the storm.
"Peace I leave with you; my peace I give you. I do not give as the world gives. Do not let your hearts be troubled and do not be afraid." Jn 14: 27
Hold tight to His hands, and shelter in His peace.