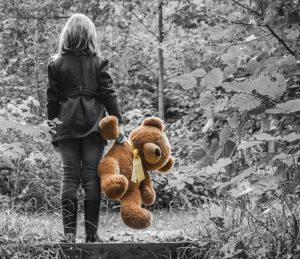 Would you ever begin a journey if you didn't know where you were going? 
Well, that's basically what I did on my first draft of Isaiah's Daughter. I knew who Hephzibah was, but I didn't know WHY I was writing about her. Yes, she was married to the most righteous king of Judah (Hezekiah) and was the mother of the most wicked king of Judah (Manasseh), but in the words of my editor: "So what?" 
It wasn't until my line edit (the third major rewrite) that I realized Hephzibah's TRUE struggle. She, like many of us, was looking for security—and having a difficult finding it in this world. 
Hephzibah and Us
Each time the Hephzibah character in my story thought she'd found peace and solace, it was snatched away by some sort of trial or testing. 
Sound familiar? Maybe a lesson too close for comfort?  
It was during my third and incredibly discouraging line edit that I realized Hephzibah's main struggle was a common struggle for most women on earth:  
In Gone With the Wind, it's the thing Scarlett O'Hara sought in Rhett Butler—and then found in her estate, Tara.

 

In the Twilight movies, it's what made Edward—a vampire, ick!—so attractive to Bella.

 

It's why every sixteen-year-old girl wants a date to prom and so many women want husbands.

 
How to Feel Secure
We come into this world, screaming when we must leave our mother's womb, craving security. And all too often we spend the rest of our lives looking for things of this earth to provide it. But as we walk this road with Hephzibah in Isaiah's Daughter, I hope you'll consider some of the steps she took to discover security in Yahweh alone.  
Letting go of the "crutches" she used as earthly security.

 

Spending time alone with God to ponder His sufficiency.

 

Reading and meditating on the truths in God's Word.

 
She doesn't feel secure in Yahweh overnight. Feeling comes over time, and she often stumbles in her faith. So will we. But as we continually remind ourselves to rest in the completely-loving care of our all-powerful, all-knowing God, we will find our security in Him. 
"Yes, my soul, find rest in God; my hope comes from him." Psalm 62:5