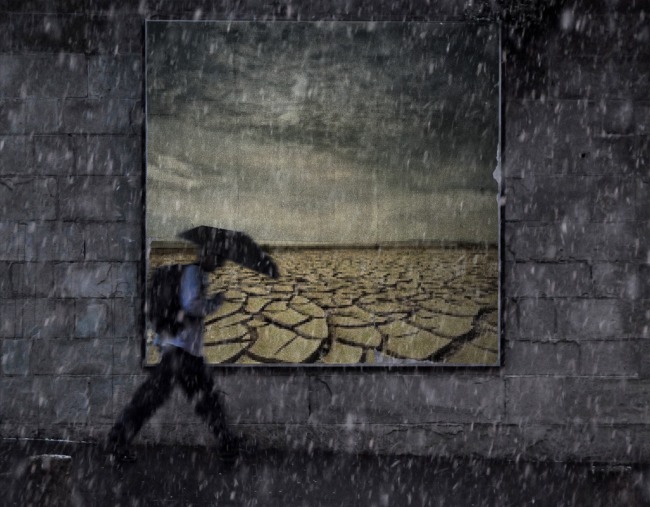 I understand why old people watch the weather channel. For I have become one of them.
Maybe it's those bright colors swirling across the map or the drama of watching a raincoat-clad correspondent, standing knee-deep in crashing ocean waves just to bring us the storm story.
Whatever it is, I'm hooked!
In my father's day, folks predicted the weather by reading signs in nature. "Smells like rain," Dad would say, or "That sky looks like snow."
Once folks determined a storm was imminent, they prepared as best they could, stocking up on necessities, moving animals to safety, canceling school, climbing into storm cellars.
But there was nothing they could do to stop what was coming.
In 1 Kings 18, Elijah and his servant joined the ranks of the storm spotters.
Then God's word came to Elijah . . ."I'm about to make it rain on the country." The drought in Samaria at the time was most severe.
Elijah climbed to the top of Carmel, bowed deeply in prayer, his face between his knees. Then he said to his young servant, "On your feet now! Look toward the sea."
He went, looked, and reported back, "I don't see a thing."
"Keep looking," said Elijah, "seven times if necessary."
And sure enough, the seventh time he said, "Oh yes, a cloud! But very small, no bigger than someone's hand, rising out of the sea."
Things happened fast. The sky grew black with wind-driven clouds, and then a huge cloudburst of rain, with Ahab hightailing it in his chariot for Jezreel.
From a drought to a tiny cloud to a torrential downpour.
How modern man would love to hold that power in his hands! And how ironic that in today's world—where men think they control so many things—they recognize one area as clearly beyond their control: the weather.
Oh, we're better at preparing. We can evacuate and batten down the hatches in record time. High-speed internet and 4G networks let us spread warnings far and wide. Local agencies provide shelters and food and medical care.
But there is nothing we can do to stop what's coming.
This brings to mind another time, and a Man who held the power of the storm in His soon-to-be nail-scarred hands.  When all was almost lost, Jesus faced a storm head on and spoke the words that muzzled it. "Peace, be still."
The One who began the storm in Elijah's time and stopped the storm in Peter's time holds that same power today. Though tsunamis, tornados, or hurricanes rage around us—or earthquakes rock the ground beneath our feet—
He reassures our fearful hearts.
He gives us strength to weather the storm like Elijah
He gives us confidence to step out of the boat like Peter
For all who feel helpless in the path of life's storms, be assured that "the waves and winds still know His voice who ruled them while He dwelt below."
Remember Him, and be still, dear soul.
by Renee Ann Smith
reneeasmith61@yahoo.com
Blog: http://reneeannsmith.com/
Facebook: https://www.facebook.com/reneeannsmith
Twitter: https://twitter.com/ReneeAnnSmith