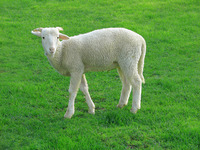 This past week leading up to Easter, I have been struck anew by the reality of what Jesus did for us. Perhaps it was reading Miram's account of the first Passover, the fear, the hope, the blind faith. They did not have it all written in black and white and even if they did, most of them couldn't read. The Israelites had to rely on the stories of their fathers and the words of a man returned from exile. There was so much they didn't know, yet they still believed.
"Taliah mulled the information, giving Miriam a chance to reflect on the stories she'd known since she was a child. El-Shaddai spoke in many ways to many people. Could she learn to hear him differently?" (p 65)
The Bible tells us that there must be a blood sacrifice to atone for sin before God can have a relationship with man. We have heard it so many times from teachers and preachers that we almost can't hear it anymore. We have never seen a lamb sacrificed for our sin. We have never looked into that sweet, innocent face or buried our fingers into thick, soft wool knowing that its life would be spent to cover our shame.
I believe that is the point, Elisheba." Miriam picked up the lead rope. "A sacrifice is only a sacrifice if it costs us something." (p 329)
That first Passover was a dress rehearsal. Yes, blood must be shed to cleanse us from sin, but the blood of animals is inadequate for the depth and breadth of our sin. Such sacrifices had to be made over and over again, never quite good enough, never truly complete.
Finally, many years later, the True Lamb came to play his role. A Lamb so perfect, so full of love that he willingly chose to give His life to cover our sins once and for all. This was no sweet yet stupid sheep following blindly where it is led, but the Son of God walking with purpose toward his death, knowing it was the only way to remove the stain of sin forever.
In fact, the law requires that nearly everything be cleansed with blood, and without the shedding of blood, there is no forgiveness. Heb 9:22
'A sacrifice is only a sacrifice if it costs us something.' Yet the death of Jesus costs us nothing. God is the one who paid the price. Jesus is the one who stood in our place. Without God's gift of the True Lamb, we would be even more lost than the Israelites during their years of slavery with no hope and no faith. There would be only fear and death.
But the Lamb did come, He did die, and He is even now interceding for us. Bow your head today and give thanks to the Lamb who saves.