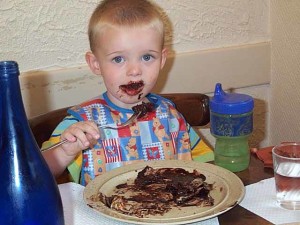 Although it has been 15 years since our family  moved back to the US from Europe, many images in my mind of our family adventures are as vivid and clear as if they happened yesterday. One such memory is from Northern France where our two year old son tasted chocolate crepes for the first time. Honestly, the picture does little justice to the sheer enjoyment and enthusiasm with which he devoured the tasty treat. (One thing not so clear in my mind is how many orders our little family ended up consuming that night because they were simply amazing!) As I was reading in Psalms this week, a verse struck me as this picture came to mind:
Taste and see that the Lord is good; blessed is the man who takes refuge in Him. Psalm 34:8.
I love this idea of tasting God's goodness and because we have tasted, we can see. Tasting is by definition experiential. I could describe the mouth watering sweetness, the perfect texture, the gooey goodness, etc. of the crepes but until you yourself have actually taken a bite, you cannot really experience how incredible they taste! We are invited to know, to experience, the goodness of God. For me to taste of God's goodness, I need to personally invest in knowing Him.  I love the connection in this verse that if I taste and truly see God's goodness, I will take refuge in Him. The verses following go on to say that those who truly know and seek God will not lack for anything. And David wrote these words while facing serious life crisis! It begins with my willingness to taste, to personally see God's goodness in my life and in the world around me.
How do I do this?  I need to cultivate awareness of His presence throughout my day. I need to ask Him to open my eyes to His working around me. I need to be in His Word letting myself be filled with Who He is.
How sweet are your words to my taste, sweeter than honey to my mouth! Psalm 119:103
Once again the idea of tasting is used to describe knowing the words of our God. It is personal. It is real. It is experienced. I again get the picture that it is not just a little nibble, a small bite, but fully engaged eating, devouring if you will, like the two year old with chocolate all over his face because the goodness was simply too much to quietly, passively, carefully sample. Do I get so eager to taste God's goodness that it is all over my face or more importantly my heart? Is His goodness seen on me and in me by those who pass by?
I wonder sometimes if I get a little content to hear others descriptions, to listen to what others are tasting without biting in myself. I love how God uses each of our personal stories to encourage one another but He desires our own story to be fresh and vibrant because we are daily tasting and seeing His Goodness!
I can hardly imagine watching a friend enjoy the goodness of a fresh cinnamon roll without begging for at least a bite. Purpose to be a taster! Let yourself experience firsthand of the goodness of God.

Do you find yourself content to experience secondhand what God intended you to taste for yourself?
What part of God's character do you need to taste today? The most amazing thing is that when we seek Him, He always shows up and is abundantly beyond all that we need! (Ephesians 3)