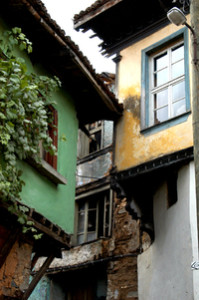 We just got back from a week in Thailand. I was so happy to be home. In the first twenty-four hours, I caught myself thinking over and over, "It's so good to be home," "I missed this," and similar thoughts. And then something hit me.
The reason it's so great to be home is that it is familiar. My home matches my rhythms. I know where things are. I've organized things so it's easy to find them and move through my normal procedures with ease. The things I care about are here.
I've heard people refer to heaven as our true home throughout my life, and I've always thought of that as meaning that heaven is a beautiful, luxurious place, but I realized this week that I don't value my home because it is more beautiful or luxurious than the hotel we were in. It's actually not. I value home because it's familiar. I fit here. My treasures are here.
But store up for yourself treasures in heaven, where moth and rust do not destroy and where thieves do not break in and steal. For where your treasure is, there your heart will be also. Matt. 6:20-21
That's how heaven should be – familiar, a good fit for me, and full of my treasures. But I realized that it will only be that way if I am adjusting my life now to kingdom rhythms and laying up my treasures there rather than here. Otherwise, it might feel more like that hotel in Thailand – perfectly lovely, but foreign and not mine.
The Israelites faced a similar problem when they left Egypt. God wanted to take them home – to Canaan, a beautiful and luxurious land. Unfortunately, they struggled to adjust their lives to God's rhythms and continued to long for Egypt. They longed for a place where they were slaves. Where they were treated harshly and regularly beaten. Where the Pharaoh had the power to slaughter their baby boys on a whim. They longed for that. Really. How is that even possible?
The Israelites said to them, "If only we had died by the Lord's hand in Egypt! There we sat around pots of meat and ate all the food we wanted, but you have brought usout into this desert to starve this entire assembly to death." Exodus 16:3-4
It hit me hard this week. I certainly don't want to get to heaven and have it feel foreign. I want to be so in rhythm with heaven that my life here on earth feels like living in a hotel, complete with that ever-present longing to be home where my stuff is. Where I fit. Where it's easy to do the things I like to do.
Like worship. And love people.
Home.