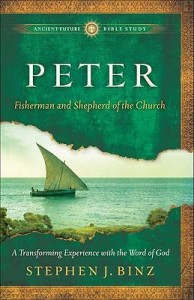 Hi all. This is Tina here with you today. I've just recently finished a fantastic Bible study on the life of Peter by Stephen J. Binz. It was billed as "A Transforming Experience with the Word of God" and, I must say, it lived up to that for me. It has been a long time since I have enjoyed a study as much as I enjoyed this one; I found it challenging me and my worldview nearly every day. It really rocked my world! (OK, sorry for the Peter puns. I'll stop now. I promise.)
By the end of the study, I felt like I had walked with Peter and gotten to know him pretty well. The final day of the study was on the passage at the end of his first letter, 1 Peter 5: 1-11, and on this particular day, verses 6-11 jumped out at me as if I were actually getting a letter on how to thrive in life from this new friend I had come to know.
---
6 Humble yourselves therefore under the mighty hand of God, so that he may exalt you in due time. 7 Cast all your anxiety on him, because he cares for you. 8 Discipline yourselves, keep alert. Like a roaring lion your adversary the devil prowls around, looking for someone to devour.9 Resist him, steadfast in your faith, for you know that your brothers and sisters in all the world are undergoing the same kinds of suffering. 10 And after you have suffered for a little while, the God of all grace, who has called you to his eternal glory in Christ, will himself restore, support, strengthen, and establish you. 11 To him be the power forever and ever. Amen.
---
In the past, I've always read these as sort of a bullet-pointed list of things to do in my spiritual walk, but I had never seen how related they are until this particular day. On this day, I heard Peter spelling out in simplest form how to get through any sort of hard time, whether it be sickness, emotional struggle, circumstances beyond our control, or even malicious and violent persecution from unbelievers.
During times of trial and suffering, Peter exhorts us to:
humble ourselves and submit to God's sovereignty, which means we have to really believe that He is in control and be okay with it
cast all the anxiety caused by the trial on God because we really believe He actually cares about us
discipline ourselves – perhaps we could say "take every thought captive" (2 Cor. 10:5); this means we absolutely cannot allow ourselves to return to worrying or questioning God's sovereignty or care
keep alert as Satan will continually tempt us to worry and question God through the trial; we must be alert to his schemes because we know how he operates – prowling around and looking for someone to devour
resist Satan steadfastly, standing in your faith and continually trusting that God is in control and cares about you
remember that we aren't the only ones going through this – throughout the world, believers go through this same cycle of suffering – trouble comes and we are tempted to doubt God's care and control
and finally, remember that God will come through when the time is right – He will restore, support, strengthen, and establish us for His own glory
Because I'd never seen the relationship between these things, I had never seen the cycle they represent which made it really hard for me to really believe that everyone was going through the same kind of sufferings I was. But now I understand. Regardless of the actual outward manifestation of the struggle, in the spiritual realm, the questions remain the same. Do I believe that God is in control? And do I believe that He cares about me?
As I reflected on this sameness of the struggle, I began to think through stories of the Bible and I was amazed to see the cycle in all of them. These questions were the core of Jesus' temptation in the wilderness. They lay at the heart of Job's struggle. I can hear Joseph asking them in Pharaoh's dungeon. Our friends Dinah and Jehosheba from Mesu's books? Same struggle. Does God care at all about me? And does He even know what He is doing?
How about you? Can you see this cycle in your own life? How do you go about disciplining yourself, staying alert, and remembering the True Answers when you're in the midst of the onslaught?
(Oh, and if you're interested in doing the Peter study I just finished, you can find it here. I was so blessed by it! I actually just started one on Paul by the same author!)