How to Enter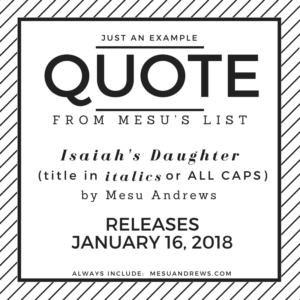 Follow the rules below to create a graphic for Mesu's upcoming release! Then, share your creation on the private BFF Facebook Page and/or the BFF Pinterest Board (Check your Pinterest inbox for an invitation that allows you to add pins to this board. If you don't see an invite, let Nichole know –nikkidawn3@gmail.com – and she will send a new invite.).
You DO NOT have to submit the "best" graphic to win! Our winner will be randomly selected from all entries.
Be sure to use one of these 25 sneak peek quotes from Isaiah's Daughter:
"Prophecy—even when we don't fully understand it—is given so we can watch God's sovereignty and power unfold."
"I experience joy more deeply because I've known sadness. And I treasure the bonds of family because I've been lonely. The caves taught me to embrace the darkness so I could fully appreciate the light."
"No matter what happens today, you are loved. You are married. You are a delight."
"I will serve without demands because I am God's delight."
"We must attempt more than is humanly possible to witness what only God can do."
"I don't understand everything . . . All I know is the peace I feel when I remember Yahweh is near and He is constant."
"If we cannot trust when we do not understand, our trust is hollow and understanding vain." (this line got cut in one of the edits, but it's one of the best ones I wrote! Let's use it anyway.)
"When one of God's prophecies doesn't come to pass, it's not because He failed; it's because we misunderstood it."
"It's hard to trust God when reality drains our hope, but God must be our hope for a new reality."
"If those with the light never walk the narrow path, how will the lost find their way?"
"We must trust in His plan for our future—no matter what our present looks like."
"If angry tears were red, and sad tears were blue, and frightened tears were green, what color would your tears be?"
"Couldn't the promises meant for the future be accessible in the present when we serve the Eternal?"
"I must focus on the eternal or risk hopelessness in the present."
"I can be a wick in the lamp, but Yahweh must be the fuel and the fire."
"Hezekiah, you are but a whisper. The true Root of Jesse, Son of David, promised Savior will be a Shout!"
"Trust is not so simple when human decisions are required."
"People will fail us. Armies can't always save us. But Yahweh is faithful forever."
"Lord, give me the will to trust when my faith fails so I can lean into You till the answer comes."
"Yahweh, strengthen our faith to overcome what our senses can't deny."
"Only as time passes do we discover the clear path on which Yahweh leads us."
"I believe Yahweh forgives our imperfect attempts at obedience when we act in sincere faith to live out His commands."
"The absolute peace I yearn for can only be found in eternity, but His tender peace descends when I'm immersed in His Word and makes this life bearable."
"We must keep our eyes on eternity, or today might be more than we could bear."
"Dwell on earth in God's peace while remaining focused on eternity."
Must include the following information on the graphic:

Isaiah's Daughter by Mesu Andrews
Releases January 16, 2018
Here are some tips and tricks for graphic making:

Use free photos off of The Stocks 2 (still check the licensing for the photo, should be able to easily see the licensing agreement-if not, don't use it) or other free stock sites/canva "free" items, etc.

Do NOT copy from a general Google Image search or other images that may cause breach of copyright.
You MAY use any photos you take yourself 😀

Make sure you get the dimensions right for the social media platform you want to post your graphic onto: AP Social Media Image Maker or 2017 Social Media Image Sizes Cheat Sheet.
CLICK HERE for some general tips on making graphics!
Here are two websites that are great for beginner graphic makers! Quozio.com & ReciteThis.com
A few more advanced websites are Canva.com, PicMonkey.com, and Snappa.com.
Prefer to use a mobile phone App?
You may enter a graphic on both Facebook and Pinterest each day of the contest to increase your chances of winning!
No purchase necessary to enter or win.
Contest is open to US and international participants.
Contest begins when the Rafflecopter goes live and ends at midnight (EST) on Wednesday, October 4th.
Winner will be contacted through email. You have 24 hours to respond with your mailing address. If we don't receive your confirmation email within twenty-four hours, we'll need to choose another winner.
Confirmed winner will be announced on October 9th in the BFF Newsletter sent to your inboxes and on the private BFF Facebook page.