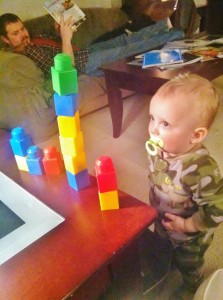 Have you ever written a book? Or climbed a mountain? Or lost 40+ pounds?
Maybe you've survived a divorce. Perhaps your spouse died—and your heart kept beating.
Have you ever accomplished something, stepped back, and thought—"Wow! I can't believe I did that!" And then you realize—it wasn't you at all. You're filled with the overwhelming realization that if God hadn't shown up, you would have failed—miserably.
I feel this way every time a new book releases, and people say they enjoy it!
A Child and His Daddy
Maybe that's why I love this picture of my grandson, Garrison. And I love that his daddy is looking on, proudly, in the background. Garrison seems to be staring at those blocks as if he can't believe he stacked them so high.
But his daddy watched with utter satisfaction, and I know my son-in-love. If Garrison had needed help, Daddy would have been at Garrison's side to help build that tower.
But Daddy let Garrison do the work and watched from a close distance.
My Abba Does the Same
With each book release, I suppose I get a little less nervous, but there's still that fear of failure. That fear that all the work, all the long nights and lonely days will turn into a book-shark feeding frenzy on Amazon reviews.
And there's always that chance. That's the reality of obedience. The very real possibility of failing—in the world's eyes.
But I can guarantee that if Garrison's block tower fell down, his daddy would NOT consider it a failed attempt. Garrison would cry, maybe stomp his feet, maybe even throw his pacifier.
I've thrown my spiritual pacifier a time or two when I get frustrated with my failures. How 'bout you?
It's About Obedience, Not Success
But our Abba God counts our obedience as success, not the world's reaction to that obedience. When the Lord says, "Build," we build–even if the blocks topple onto the floor. Have we failed? Not if we keep building.
Why is that so hard to remember when my blocks are spilled all over the floor? Or when a one-star review comes in on Amazon? Or when you're passed over for that promotion at work—because you take "family time" instead of working longer hours?
The goal of obedience isn't success. The goal of obedience is abiding–abiding in the one, true Vine–the only Source of abundant joy.
"If you obey my commands, you will remain in my love, just as I have obeyed my Father's commands and remain in his love. I have told you this so that my joy may be in you and that your joy may be complete."            John 15:10-11
Happy Release Week!
Today's post is shorter than most, but life is a little crazy this week. My Pharaoh's Daughter rough draft for was due on Monday. In the Shadow of Jezebel released on Tuesday. And I have the honor of presenting a workshop at the Faith and Culture Writers' Conference tomorrow.
All-in-all, this week has been a set of blocks I couldn't stack by myself! But come NEXT Monday, I'm going to stand back—pacifier in my mouth—and look at the stack of blocks the Lord helped me build.
I'll be amazed—at my Abba. He'll smile at me. And we'll have a spontaneous love-feast because He will have guided me through another building project beyond my own strength.
Tweet-A-Licious!
Today's Question:
What's your stack of blocks this week? This month? This life?