Thanks to Jill…
I'm excited to have my good friend and wonderful biblical fiction author, Jill Eileen Smith, with us today on my blog. Jill is part of the reason I'm published. It was her first series, Wives of King David, that opened the door for the current resurgence of quality biblical novels.
Before Revell took a chance on Jill's debut novel, Michal, editors at writers conferences all over the country told hopeful biblical fiction authors: "Publishers won't print biblical novels because bookstores won't buy them–because readers won't read them."
But when Michal hit the ECPA (Evangelical Christian Publishing Assoc.) 2009 Bestseller list, the Christian fiction world took note. Jill (and many others) continued writing well-researched, biblically-grounded, heart-stirring novels since.
Jill's newest release, Rachel, hits bookstore shelves TOMORROW (February 1, 2014)! CLICK HERE for a chance to win the Wives of the Patriarchs Giveaway, or read on to learn a little more about Jill and her writing world (another chance to enter the contest waits below).
Standard Interview:
Mesu: Why do you write biblical fiction?
Jill: Biblical fiction (Two From Galilee by Marjorie Holmes) brought the Bible and its people to life for me. Suddenly those people were real! I never looked at the characters in Scripture the same way again. I long to give that same experience to those who read my books.
Mesu: What made you choose this particular biblical character/story/time period?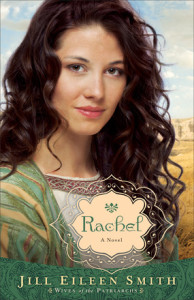 Jill: Rachel is the wife of the third patriarch, Jacob, so her story fit with the series. The patriarchs of Scripture have always fascinated me. Abraham's unwavering faith (except when it came to lying to two kings about his wife!), Isaac's binding—how did he feel about that? We only have Abraham's reaction of obedience and a brief conversation. That caused a lot of research and pondering. Jacob—now, he's quite a character! Deceptive, yes, but loyal to the extreme to those he loved. My favorite part of his story is when he wrestles with God, not because wrestling is a favorite sport (it's not!), but because we all do so with God's best for us at some point in our lives. I could seriously relate.
Of course, the women in the lives of these men are the most fascinating. Who were they? What were their heartaches, their hopes, their dreams? We can't understand the women though without understanding the men because the Bible is patriarchal in its writing. Makes for some fun research!
Mesu: Who is your favorite character in the story and why?
Jill: Can I pick three? I really came to appreciate Jacob, Rachel, and Leah. I suppose my favorite would be Rachel though, since she is the main focus of the book. I felt truly sorry for her. She suffered a great blow to have her wedding night given to her sister. Some suggest it was partly her idea because of her love for Leah. But if you just look at the competition between them later…well, I don't think so. I see a young woman who loses out on the most important day of her life. Kind of like the woman who is abandoned at the altar, except she is forced to stay in the marriage with her sister the rest of her life! Not what either she or Jacob bargained for, that's for sure!
Mesu: What are some of the truths you hope readers will take away from this book?
Jill: I hope readers will come to see that God can be trusted even when men cannot. I also hope that they see how little (zero) control we have over our lives, our circumstances. The only things we can control are our choices and how we will react to each situation. Will we trust His will and cling to our God or grow angry and bitter and continually grasp at what we cannot reach?
Author's Choice Questions:
When I send an author interview questions, I list the previous four as "mandatory" for everyone but then include 28 questions that they can choose from. I ask that they read over all 28 questions quickly, marking only the ones that immediately strike them as "gotta answer!" Here are the ones Jill chose:
Where are you right now (LVR, DR, Bathroom) and what are you wearing? You have to tell the truth.
I'm sitting at the kitchen table eating lunch (a salad) while I type this. It's 2 degrees outside, but the sun is shining creating glitter on the snow. I'm wearing a white turtleneck, knit blue jeans, and an Eeyore sweatshirt!
2. What is your favorite season of the year? Why?
Not winter! I love summer best, I think, though spring and fall have such beauty. I just prefer flip-flops or bare feet, and short sleeves without the need for a coat. I belong in California, I think. (Just give me the ocean, palm trees and sunshine, thank you!)
3. What is the most-fun thing you have ever done?
Traveled! We've been to so many wonderful places—Israel is my favorite, followed by California and Hawaii. And the national parks and mountain ranges—I LOVE God's creation far and above anything manmade, including my favorite Disney World. J I would love to see more of the world.
4. What is the most important thing on your current 'To Do' list?
Finish the 2nd novella in the Loves of King Solomon series. And finish remodeling the bathroom!
5. What is the best piece of writing advice you've been given?
Write what you love, not what you know. You can always learn what you don't know. But if you don't love what you write, readers won't either.
6. Do you outline your books or let the story go where it wishes?
I paragraph summarize – a sort of loose outline—then after a lot of research I let the characters tell the story.
Contest News
Thanks so much, Jill, for giving us a glimpse into your heart, your writing world, and into the pages of the new release, Rachel!
Tweet-A-Licious!
Today's Question:
Do you have any questions or comments for Jill today?