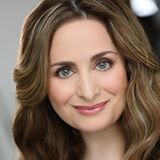 Have you ever met someone who is short in stature but a giant in character, spunk, and faith? That's how I felt about Tessa Afshar when I met her at the American Christian Fiction Writers' (ACFW) Conference in 2012. This little dynamo was–and is–one of my favorite authors on the planet, and she's written my favorite biblical novel of 2014.
You can read the full review of In the Field of Grace in my July 1st newsletter (CLICK HERE to sign up–or fill in blanks at right).
Until you get my newsletter, let's hear what Tessa has to say about the book (releasing July 1st) and her writing process as she considered the biblical story of Naomi, Ruth, and Boaz…
A Note From Tessa…
Dear Mesu, thank you so much for inviting me to be a guest here today. It has been fun answering your questions. You made me think really hard! And you ask questions that no one else has ever thought of asking. You should consider becoming a professional writer. I bet you would be good at it!  😉
About the Book…
I asked Tessa to answer all the following questions:
Mesu: Why do you write biblical fiction?
Tessa: The Bible is filled with fascinating characters who make colossal mistakes, cause enormous damage and yet, in many cases, turn their lives around for good. They rise above their circumstances and failures to grab hold of God. And in the process, they change our lives by inspiring us to reach for better things and hope for redemption. I love that I can tell a story that by its very nature has the potential to influence the reader's life and draw her nearer to God.
Mesu: What made you choose this particular biblical character/story/time period?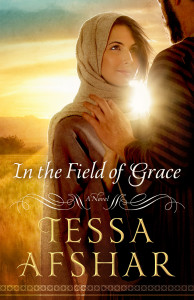 Tessa: In the Field of Grace is a retelling of the story of Ruth, which is one of my favorite books in the Bible. In a few short pages, this story manages to give us a glimpse of God's sovereignty and faithfulness through the most painful seasons of our lives. He doesn't let go of us, even when we let go of Him. I love this story because it demonstrates that there are no outsiders in the Kingdom of God, no losers, no worthless outcasts. In His gracious hands, everyone finds enormous value. Shattered lives are restored. The impossible comes to pass.
And, of course, I love the romance!
Mesu: Who is your favorite character in the story and why?
Tessa: Ruth's wisdom, faithfulness, and love have always inspired me. But writing the story gave me a new appreciation for Naomi. She lost everything. She could have clung to Ruth and Orpah to make herself feel better. Culturally, she had that right. Instead, she chose to set them free in order that they might have a chance at a better life. She placed their needs above her own, although she was brought to her knees with grief. In her own way, Naomi was as unselfish and generous-hearted as Ruth.
Mesu: What are some of the truths you hope readers will take away from this book?
Tessa: You can survive the harshest losses of your life with God's help. The Lord really does have a plan for your life. You may not know it, but you are far more important in the larger story of God than you can imagine. Your choices matter! Your obedience can make an incomprehensible difference in the Kingdom of God.
Ruth's decision to go to Bethlehem wasn't just a matter of her salvation. It wasn't just a matter of Naomi's survival or emotional wellbeing. In the balance lay the fate of the world. Ruth didn't know it, but if she had refused to go to Bethlehem—if she had followed in the footsteps of Orpah and gone back to the relative safety of Moab, her own people, her own gods—Jesus as we know Him could not come to be.
The salvation of the world rested in the hands of a powerless, childless, destitute widow. What might rest in your hands?
Author's Choice Questions:
In this section, I give authors a list of over twenty questions, and they can choose as many or as few as they wish to answer. I ask that they answer only the ones that LEAP off the page at them at first glance!
Mesu: Has being an author been everything you thought it would be? If not, what has surprised you the most?
Tessa: Writing cannot happen without sacrifice. I still have a day job, because it provides stable income whereas with writing you never know. I don't get to do as much cooking, gardening, or visiting with friends as I would like. I can't remember the last time I went on a true vacation that didn't include some level of research or writing or book promotion. But I also know that I am one of the few blessed people in the world who gets to live her dream. There is a tremendous joy in doing what you were created to do.
Mesu: What do you love about writing?
Tessa: I get to live in a whole different world without getting on a single train, plane, or automobile. I have conversations with people who don't exist, travel in time, kill bad people, keep readers awake way past their bedtime, and no one arrests me or sends me to an insane asylum. It's a pretty good deal, really.
Mesu: Please tell us five random things we might not know about you.
Tessa:
I was born in the Middle East and lived there for almost fourteen years before moving to England, and later the US.
I have an accent – a mix of British English and Persian. People often ask me if I am Irish. The Irish ask me if I am American. The truth is I am a citizen of heaven.
I am only five feet tall. But I pray like I was twelve feet.
I love writing in bed.
I can't bake to save my life, but I am a really good cook.
Mesu: If you could be any character in any book, who would you be and why?
Tessa: With six million other women, I would have to say Elizabeth Bennet. Obviously because she ends up with Mr. Darcy. Need I say more?
Thanks for visiting us, Tessa!
Here are a few details about this awesome lady and fantastic author:
Tessa Afshar was voted "New Author of the Year" by the Family Fiction sponsored Reader's Choice Awards 2011 for her novel Pearl in the Sand.
Her book, Harvest of Rubies was nominated for the 2013 ECPA Book Award in the fiction category and World Magazine chose Harvest of Rubies as one of four notable books of the year. Her novel, Harvest of Gold was nominated for the 2014 Christy Award.
Tessa was born in Iran to a nominally Muslim family, and lived there for the first fourteen years of her life. She moved to England where she survived boarding school for girls and fell in love with Jane Austen and Charlotte Bronte, before moving to the United States permanently. Her conversion to Christianity in her twenties changed the course of her life forever.
Tessa holds an MDiv from Yale University where she served as co-chair of the Evangelical Fellowship at the Divinity School. She has spent the last fifteen years in full-time Christian service in New England.
To contact Tessa please visit her on her Facebook author page at: https://www.facebook.com/AuthorTessaAfshar?fref=ts