What Did You Do For Christmas Fun?
I read a GREAT BOOK!
With my first draft on book #5 finished (Pharaoh's Daughter–the one that drew Moses from the Nile), I had a couple days to read for pleasure. What is my favorite fiction genre? Biblical novels, of course!
I have a few more tweaks to make on my manuscript before sending it to my first readers. They'll read it over and return it with suggested edits. I'll spend all of February polishing it up to submit to my editor by March 1st.
That means I start researching book #6 in January! Whew! The cycle never ends, and I love it! Book #6's main character is Miriam, Moses's sister, so I decided that my pleasure reading should have something to do with Moses and the Exodus. My choice was simple…
Fiction Then Fact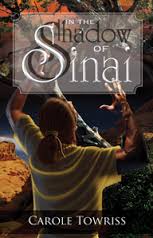 As preparation for researching a new topic, I often read biblical fiction before beginning the factual research. I remembered reading Carole Towriss's first book, In the Shadow of Sinai, and loving it! (You can see my review here.) Her first book covered the Israelites time in Egypt through the ten plagues and the Exodus, and I'd heard her second book gave more detail on the first year of wandering.
When I find a biblical novel author who is both a stickler for good research AND tells a great story, I'll go to their books FIRST and do my detailed research later. Why? By seeing how others interpret the culture, the geography, and the history, I gain an impression of the events, with which I can then approach the actual history for myself.
Carole Towriss is one of the authors I trust to research carefully and create an accurate and compelling "atmosphere" for biblical events. She doesn't tell me an exact story that I can find already in Scripture. Instead, she weaves biblical facts, characters, places, and events into a beautifully-phrased spiritual journey.
By the Waters of Kadesh
Carole's second book, By the Waters of Kadesh, was the first book I picked up when my writing retreat ended. And I'm so glad! You can find the full review in my January 1st newsletter (along with some VERY important news about my upcoming release, In the Shadow of Jezebel!).
Interview With Carole:
Carole graciously hosted me on her blog last month and agreed to chat with me here this month! An amazing lady…
Mesu: Tell us about your publishing journey.
Carole: I started my first book, In the Shadow of Sinai, over twenty years ago. I ran into some research issues—there was no internet then and it was really difficult to find books in print—so I just stopped writing for about fifteen years while I concentrated on my family. I picked it up again about three years ago and finished it in a year. By the Waters of Kadesh is the sequel, and I'm writing the third.
Mesu: What personal life experience made the plot of this book especially poignant for you?
Carol: I think both books so far deal with the way life doesn't always work out the way we like, or end up wrapped neatly with a bow, even at the end of the story. Life can be very painful at times. We waited a long time for children. We have one bio child and three adopted children, and building our family was a very lengthy and difficult journey. While that particular issue is not in the book, I think some of that pain, and the trust learned, comes out.
Mesu: What spiritual lessons did you apply to your own life while you researched/wrote this manuscript?
Carol: I think learning to wholly depend only on Jesus. This is something I struggle with on a daily basis. We can't place our trust in the people around us, no matter how good they are or how much they love us. They are human and fallible. Only Jesus is perfect, always trustworthy, always there.
Mesu: What spiritual impact do you hope this story will have on your readers?
Carol: Kadesh deals with having a purpose in life. Kamose has to find a new purpose after he leaves his entire life behind him in Egypt. I hope those readers who have their lives—or even just a part of it—suddenly changed can take hope from that story. Then of course there is the tale of the spies who refused to trust in God's promise that they could conquer the new land with His help. That's of course a lesson in what not to do!
Mesu: Where can readers find out more about you and your writing?
Carol: Readers can find me in several places:
Thanks, Carole!
I pray the Lord richly blesses this talented writer and servant-hearted lady. Be sure to check out January's newsletter to find the review of By the Waters of Kadesh!
Tweet-A-Licious!
Questions for Carole?
Please use the comment section below to ask Carole a question or leave encouragement about either of her books!