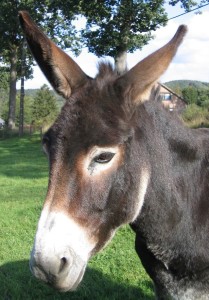 How's your self-esteem? On a scale of 1-10, how would you rank your outward appearance?
Too fat, too skinny? Too tall, too short? Hair too curly, too straight—or is there simply too little left to assess? Should we talk about wrinkles? Okay, let's not. Do you have Antique's Disease—when your chest falls into your drawers?
Maybe you're on the other end of the spectrum and have a slim, trim physique, perfect skin, and killer hair. Perhaps you have a great job, lovely home, nice car, and a walk-in closet stuffed with the latest styles. Good for you! Actually—you may have the more difficult hurdles to cross. Why? Let me explain…
A Lesson From the Donkey
Last Sunday, our pastor asked the new round of Sunday school teachers to announce our upcoming classes at both services. It sounds silly, but I was nervous. I routinely speak to large groups but seldom to my home church. The image of falling on my face on the way to the front kept running through my mind. I can easily talk to strangers whom I'll never see again, but these were folks I worship with each week!
During the worship songs I kept checking my clothes to be sure zippers were zipped and bows were securely tied. By the third song, a terribly convicting memory emerged—a devotional I'd read from My Daily Bread about ten years ago—about the donkey that carried Jesus into Jerusalem for His triumphal entry.
"They took palm branches and went out to meet him, shouting, 'Hosanna! Blessed is he who comes in the name of the Lord! Blessed is the king of Israel!' Jesus found a young donkey and sat on it, as it is written: 'Do not be afraid, Daughter Zion; see, your king is coming, seated on a donkey's colt.'"    John 12:13-15
In the Daily Bread version, the little donkey was oblivious to the King it carried, thinking: Look at how the crowd loves me. I must be something special for all these people to put palm branches in the road to soften the path for my hooves. The donkey was too concerned with itself to truly fathom the real honor bestowed on it.
If the donkey should boast, let it boast that it carried the Savior. Let it boast that, though it had done nothing to deserve the honor, Jesus had chosen it to carry Him to a world in need.
Embrace the Donkey's Job
The donkey's job is actually similar to yours and mine—to faithfully carry Jesus to His destination, to the people we meet in our daily lives.
Unfortunately, I acted more like the devotional donkey on Sunday when I worried about how I would appear to my brothers and sisters in Christ. Who cares? It's not about me! I'm just the donkey that carries the Savior!
"The Lord does not look at the things people look at. People look at the outward appearance, but the Lord looks at the heart."

1 Samuel 16:7
I confess that I struggle with this more than just last Sunday morning. Lately, I've given too much thought to what I wear, hair, make-up, weight. And let's face it—our struggle isn't limited to outward appearance.
Have you felt the sting of envy over someone else's gifts and talents? Perhaps you're limited by health issues or life circumstance and go or do like you once could. Why must the external matter so much to God's children who bear the TRUE honor of His radiance within?
Miriam and The Donkey's Prayer
In a few weeks my sixth book will release. Miriam will hit bookstore shelves and become available on every online book retailer—and the reviews will begin as well. Each release is bittersweet with exciting reports from folks who enjoyed the book and humbling accounts of others whose lives were touched by the Spirit as they read. The other side of the coin is, of course, the harsh critiques from those who dislike or disagree with my fictional representations of history or Scripture.
The question is—whether I receive praise or criticism, can I faithfully and joyfully carry my Savior to the waiting world? The answer is yes…as long as I remember:
My only honor, the only glory that makes me worthy of note, is the fact that I carry God's Light into a dark world.
Tweet-A-Licious!
Today's Question:
What external factors make it difficult for you to focus on that matchless honor of carrying the Savior within?