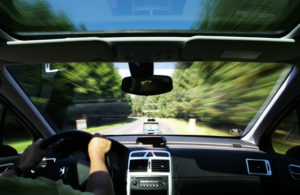 I was on my way to speak at a pastors' wife's conference and made the grave error of relying on my phone's GPS for directions. Why was it an error? Because the conference center was so far into the mountain foothills that my phone lost reception. When I lost my cell signal, I lost my navigation. Oooooh, how I wished for a good old-fashioned paper map!
In today's post we're not talking about an electronic GPS but a more important kind of GPS, God's Perfect Sovereignty.
What's GPS?
Let's review a little from last week's podcast/blog notes. Yahweh made a one-sided, unconditional covenant with Abram:
"…a son coming from your own body will be your heir…Look up at the heavens and count the stars…so shall your offspring be."  Genesis 15:4-5
Abram needed to trust in GPS—God's Perfect Sovereignty—as his life unfolded, but there were also two women involved in God's plan—Sarai and Hagar. Sarai was Abram's wife, and Hagar was her maidservant. Hagar had spent her whole life as a servant but found herself suddenly thrust into a new role. Sarai gave Hagar to Abram in order to bear a child. Abram was a wealthy chieftain by this time, so when Hagar conceived his firstborn child, she was elevated from slave to celebrity without any instructions on what to do or how to feel.
Sarai Ignored Her GPS
After ten years of waiting on God to DO SOMETHING, Sarai ignored her GPS and decided to "help" God fulfill His promise to Abram.
"So after Abram had been living in Canaan ten years, Sarai his wife took her Egyptian slave Hagar and gave her to her husband to be his wife. He slept with Hagar, and she conceived. When she knew she was pregnant, she began to despise her mistress. Then Sarai said to Abram, 'You are responsible for the wrong I am suffering. I put my slave in your arms, and now that she knows she is pregnant, she despises me. May the Lord judge between you and me.' 'Your slave is in your hands,' Abram said. 'Do with her whatever you think best.' Then Sarai mistreated Hagar…"                                    Genesis 16:3-6
Waiting on God's plan to unfold has to be one of the most difficult times to follow GPS. But the mess we make when we strike out on our own can have far-reaching consequences.
Hagar Tried to Escape Her GPS
Remember, Hagar was Egyptian. She was likely one of the female servants given to Abram by Pharaoh himself.
"When Pharaoh's officials saw [Sarai], they praised her to Pharaoh, and she was taken into his palace. He treated Abram well for her sake, and Abram acquired sheep and cattle, male and female donkeys, male and female servants, and camels…[after the lie was discovered] Pharaoh gave orders about Abram to his men, and they sent him on his way, with his wife and everything he had."  Genesis 12:16,20 (emphasis added)
Hagar witnessed Yahweh's power to protect Abram even though he lied to Pharaoh. She would have undoubtedly known about Yahweh's covenant with Abram and the blessing promised to the child of that covenant. Yet Hagar, like so many of us today, lost sight of her GPS when physical pain was involved. She didn't like how God's plan was unfolding, so she tried to escape her GPS.
"So [Hagar] fled from [Sarai]. The angel of the Lord found Hagar near a spring in the desert; it was the spring that is beside the road to Shur."  Genesis 16:6b-7
But we serve a good and loving God that will not be ignored and cannot be escaped. We always have a choice, but He will use us or someone else to work out His perfect plan.
The Two-Sided Coin of GPS
God saw Hagar, an Egyptian slave, wandering in the desert. He appeared to her—a woman, carrying Abram's child—but not the child of the covenant. Let this sink in. Yahweh wasn't interested in saving ONLY the covenant child. His goal has always been to bless ALL NATIONS. Yahweh's covenant with Abram was not meant to exclude the world but to provide a clear and direct funnel of His blessing.
"[Yahweh] said, 'Hagar, slave of Sarai, where have you come from, and where are you going?' 'I'm running away from my mistress Sarai,' she answered."  Genesis 16:8
Notice, Hagar only answered one of God's two questions: where she'd come from. She had no idea where she was going. Only GPS could give her that information…
"Then the angel of the Lord told her, 'Go back to your mistress and submit to her.' The angel added, 'I will increase your descendants so much that they will be too numerous to count.""                                     Genesis 16:9-10
If you were Hagar in this moment, wouldn't you think Yahweh meant she'd have multiple children…with Abram? We have the benefit of knowing the whole story, but Hagar had to live it moment-by-moment, year-after-year. Hagar's future wasn't what she expected. Fourteen years later, Hagar would wander the desert again.
"Sarah saw that the son whom Hagar the Egyptian had borne to Abraham was mocking [her son, Isaac], and she said to Abraham, 'Get rid of that slave woman and her son, for that woman's son will never share in the inheritance with my son Isaac.' The matter distressed Abraham greatly because it concerned his son. But God said to him, 'Do not be so distressed about the boy and your slave woman. Listen to whatever Sarah tells you, because it is through Isaac that your offspring will be reckoned. I will make the son of the slave into a nation also, because he is your offspring."                  Genesis 21:9-13
By this time, Hagar's son was in his late teens. They wandered in the desert until they were near death, until Yahweh finally appeared to Hagar and showed her a nearby well. And because Hagar trusted GPS, her son's future was secure.
"God was with the boy as he grew up. He lived in the desert and became an archer. While he was living in the Desert of Paran, his mother got a wife for him from Egypt."  Genesis 21:20-21
How's Your Trust Level of GPS?
Just watch the evening news to see the ongoing relational issues of Sarah's son, Isaac (father of the Jews) and Hagar's son, Ishmael (father of the Arabs). Are you dealing with difficulties in your life because you've ignored or fled from God's Perfect Sovereignty in the past? Take heart! We can never make a mistake too big for God to fix, but if we trust our GPS, we may have a more pleasant journey!
Tweet-A-Licious!
Today's Question:
What unforeseen consequences can you avoid by dialing in to GPS today?