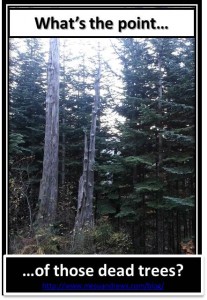 If you've been following my Facebook escapades, you know I've recently spent some time at a mountain cabin belonging to some friends. Which mountain? Snag Mountain. Never heard of it? Maybe that's because our friends named it. I suppose if you bought the top of it, homesteaded and raised your children on it, live and breathe with it—you get to name it.
What's a "Snag"?
I wasn't even smart enough to ask that question until I was walking on the mountain with the friend who named it. (We'll call her "Pam" since that's her name.)
We were chatting about life and kids and Jesus, and she was explaining something about the trees. Pam knows everything about botany, geology…you know, one of those brainy folks. She pointed to a 30-foot, ugly, dead Douglas Fir and mentioned in passing that it was a snag.
Now, Pam had no idea the Lord had been talking to me about the two dead "Dougs" outside my cabin that morning while my bagel and coffee were cooking on the camp stove (pictured above). "So, what's the deal with those dead trees," I asked her—and then mentioned the two by the cabin.
She proceeded to explain that the mountain had experienced a burn in the early 1900's and been reforested. Loggers had come in and cut down lots of the damaged trees but left many dead trees standing—snags. So, when Pam's family bought their property at the top of the mountain, they saw all these snags mingled with the healthy new trees and decided on the name, Snag Mountain.
Why Did I Care?
All right. Let's just get it out in the open. I think I'm having a mid-life crisis. Feeling a little irrelevant in my children's lives, in my culture, in my world. There, I said it.
Remember my little talk with the Lord back at the cabin—about those two dead trees outside the cabin door? Pam had just given ME a name. I WAS A SNAG, for heaven's sake!
Now, stay with me. This has a happy ending…
Before I talked with Pam, I'd been mulling over what I knew about dead trees. They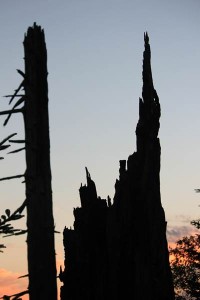 hosted termites, carpenter ants, etc. My mom and dad once had a dead tree, and several months after they cut it down, they discovered termites in their house. The Orkin man told them when the termites no longer had a dead tree to feast on, they moved to the house. Good to know.
So, I'm sitting in the cabin on the mountain, thinking: Wonderful. I'm a termite-infested snag. BUT I tried to concentrate on all the healthy, young Doug Firs standing all around those two snags…and I felt a little better. If it weren't for those old snags, the young Dougs would never grow up to be log cabins and telephone poles, right?
And those old snags were keeping the termites away from the beautiful cabin I was sitting in—pondering all these amazing truths and watching my bagel burn on the cast iron grill.
Back to Pam…
We took this leisurely morning walk, and I was practically hysterical about my mid-life crisis. I hadn't considered that the mountain was covered with these snags and healthy Dougs, the same kind of mingling as outside the cabin door. My heart began to pound; I couldn't catch my breath—and then I realized we were hiking uphill, and Pam was in MUCH better shape than me.  😆
So then my very brainy friend began explaining the REAL role of snags on the mountain. The snags play host to all sorts of life. Chipmunks, birds, and certain kinds of plants find shelter in these nitrogen-rich, decaying trees. (The stump at left has a huckleberry growing out of it that produces yummy red berries!)
Nitrogen-rich sounded much better than termite-infested.
Why It Matters:
I began scoping out the snags on the rest of our walk and took notice of what kinds of life resided in a snag as I passed by. Sure enough, as I sat in the recliner writing later that day, I glanced out the wall of windows in the cabin, and there—scampering in and out of holes in the glorious snag before me—was a chipmunk.
Home. A snag is home.
Nitrogen-rich or termite-infested. I am a home. Irrelevant to my family, my culture, or my world, I am a home to those who need a warm heart, a kind word, and a risen Savior.
I am a home.
I am a home, a temple of the Holy Spirit (1 Cor. 3:16; 6:19). Jesus put his Spirit in my heart as a deposit, a guarantee of what is to come (2 Cor. 2:1).
Know a Snag. Be a Snag.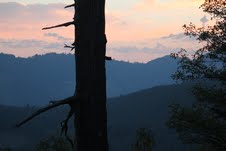 Maybe you're a twenty-something, shotgun-toting, farmer from Nebraska and can't relate to a middle-aged woman having a crisis on a mountain. Buck up. You've got a mother who knows just how I feel.
Maybe you're a ninety-something snag that sees no one nesting in your nitrogen-rich branches. Can you just stop and realize how amazing you are? You're reading a BLOG on the internet, and you were born before TV, penicillin, and yo-yo's for heaven's sake! You rock!!!
Maybe we all just need to hear my sweet husband's encouragement, given to me as I poured out my tears about being irrelevant. "Honey, you're not irrelevant. You're occasionally essential."
Praise God for occasionally essential snags.
Tweet-A-Licious!
Today's Questions:
In what way are you a "snag?"
Do you have a "snag" in your life, who has been your "home"?