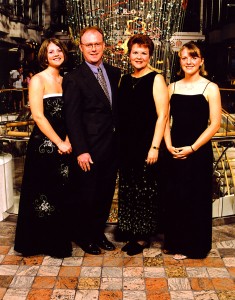 Our job as parents is to train our children's conscience when they're young. As Christian parents, we're sort of the "microphone of the Holy Spirit" during their formative years.
When our two girls were little, Roy and I never watched R-rated movies, never listened to anything but Christian music, and seldom watched TV. When they grew into middle school, we started monitoring more TV shows, and it became harder and harder to police their music as they spent more time at friends' homes. By the time they reached high school, their history classes were showing R-rated movies like The Patriot and Schindler's List, and they'd grown to love country music.
Where did we go wrong? LOL.
In order to stay "connected" with our kids, Roy started listening to country music. They talked about lyrics, favorite artists, watched CMT. I couldn't do it. A hound-dog on the porch, an irate girlfriend, and an old pick-up truck seemed to be the essence of every song, so I went the movie route to connect with our girls.
Now that our kids are adults, Roy and I can make choices on life and entertainment based on our own preferences—and God's leading.
But what parameters do we set on ourselves when there are no little eyes or ears to protect?
Grace, Not Law
Let me begin by saying that watching the right movies or listening to the right music will not get us into heaven. I'm not about to list a set of rules for every Christian to follow. Lovers of Jesus are motivated by things far more compelling. Adoration. Gratitude. Awe.
"I do not set aside the grace of God, for if righteousness could be gained through the law, Christ died for nothing!"  Galatians 2:21
If I try to set up a list of rules that every Christian must follow, I have—in essence—nullified the power of the Cross.
Everyone Needs a Guide
During the last night of Jesus's earthly life, he assured His disciples that though He was leaving them, He would send His Spirit to teach and guide them:
"…I tell you, it is for your good that I am going away. Unless I go away, the Advocate will not come to you; but if I go, I will send him to you. When he comes, he will prove the world to be in the wrong about sin and righteousness and judgment…the Spirit will receive from me what he will make known to you."   John 16:7-8, 15
When a follower of Jesus is living in right relationship with the Holy Spirit, we need no external set of laws to govern our daily choices. It's the Holy Spirit's job to convict our hearts and our job to listen.
My Guide Needs a Microphone
Let's be honest. I don't always listen to that still, small Voice when it says, "Don't go there. Don't do that." And here's the worst… "Don't eat the second piece of pie/cake/muffin/etc." OUCH! Sometimes that quiet Voice needs a microphone to overcome my stubborn will!
I believe I found two microphones in John 3 during Nicodemus's night-time visit with Jesus.
First Microphone
"Light has come into the world, but people loved darkness instead of light because their deeds were evil. Everyone who does evil hates the light, and will not come into the light for fear that their deeds will be exposed."        John 3:19-20 (emphasis added)
Deceit is the first way the Holy Spirit shouts His conviction. If I must hide my words or deeds, I should check them for sin.
Second Microphone
"But whoever lives by the truth comes into the light, so that it may be seen plainly that what they have done has been done in the sight of God."   John 3:21 (emphasis added)
The second microphone appears when I become aware of God's presence with me—everywhere.
If I'm going to the movies, I should ask, "If Jesus were sitting in the seat beside me, would I go to this movie?" Because He WILL BE sitting beside me.
If I'm talking about someone else to a friend, I should ask, "If Jesus heard me talking, would He consider this gossip?" Because He DOES HEAR me talking.
If I'm tempted to overspend while shopping, I should ask, "If Jesus went into the dressing room with me, would I buy all these things?" Because Jesus DOES GO into the dressing room with me.
If you live alone and are drinking a fourth glass of wine or eating a third piece of chocolate cake, you should ask, "If Jesus lived with me, would I take better care of myself?" Because Jesus DOES LIVE with you.
Living in His Presence
It's been ages since I read The Practice of His Presence by Brother Lawrence, but it's a classic and a beautiful challenge to live constantly in the knowledge of God's presence. May God's microphones amplify not only His still, small Voice in your life but also His manifest presence in every moment of your day.
Tweet-A-Licious!
Today's Questions:
Is there a "rule" that you used to follow that the grace of God frees you from following?
Is there an activity that you feel the conviction of His Holy Spirit saying, "This is sin," now that you consciously recognize you do everything in the sight of God?