Here we are on "Black Friday"—a terrible name for the day after we pause to give thanks—and I want to linger a little longer in an attitude of gratitude.
If you went shopping today (or plan to go), let's rejoice over the great deals instead of grousing about the commercialization of Thanksgiving and Christmas. If you had to return to work today, I hope you can take the philosophical approach and be thankful you have a job. If you're like my hubby and I, we're extending our thankfulness by officially beginning the Christmas season! Today, we unpack our decorations and put up the tree. We've also decided to write our Christmas letter.
For the past three years, my writing deadlines have fallen during the holidays, and I haven't been as available to really enjoy the added activities of the Christmas season—but this year is different. I've put writing on hold to step back and enjoy the season.
Starting With Our Christmas Letter
Usually, I write our Christmas letter by looking back at the calendar from January thru December, and give a quick overview of the year. But what do I do when I haven't written a letter for three years? My hubby gave me the idea of reporting our family's events by categories…and I thought it was a great way to organize my thanksgiving to the Lord as well! Here are the groupings of my gratitude, but if you plan to extend your gratitude today, please feel free to create your own groups!
Family
Church
Work
Travel
Life Events
Beyond My Wildest
Family
I'm so thankful that last Christmas, our whole family was together for the first time in three years. Both daughters, their hubbies, and all six of our grandkids met in Atlanta for a few days of overeating, picture-taking, and kid-screaming chaos. It was absolutely FABULOUS!
We were further blessed when later in the summer and fall both families were able to return home to Washington for a visit. Roy and I had traveled to visit our kids over tha past three years, but there's just something special about having your kids return to the nest.
Church
Our church was blessed with a new pastor's family (originally from New Zealand) in July of 2014. Pastor Dave's passion for God's Word, his integrity, and his leadership have reignited my desire to serve in the local church. His sweet wife has been a personal blessing and encouragement to me, and his children are unique treasures—each one. I praise God for their ministry and pray the Lord will continue to use them in our midst for many years to come.
Work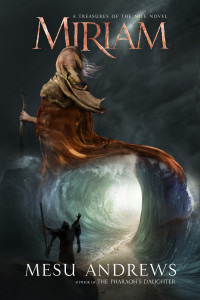 It's still surreal to walk into a bookstore and see a book with my name on it sitting on a shelf. I'm thankful to have worked with two of the greatest editors who have taught me so much. I stand in awe of the God who has paved every step of this journey with His grace.
In March 2016, Miriam, Book #2 of the Treasure of the Nile series will release, and I'm so excited about this one. Seeing Moses's return to Egypt, the ten plagues, and the Exodus through Miriam's eyes has been a spiritual shot in the arm for me. I hope y'all will enjoy this story as much as I have.
Travel
I'm absolutely giddy about Hawaii! I returned from my first-ever trip to the 50th state just three days ago, and I'm smitten! Thank you to my friend Carmen Richards, who arranged a women's conference at Calvary Chapel on the beautiful island of Kauai where my friend Meg Wilson and I met some amazing ladies. I am still praising our Almighty God, who worked in all our lives during that conference.
Life Events
Perhaps the biggest life event in years was my recent hysterectomy and the complications that arose during and after. For those who follow this blog regularly, I won't bore you with a recap. For those who may be visiting for the first time, let me summarize by saying, were it not for my husband's quick action, I would have met Jesus that day. There's nothing like a near-death experience to retool and refocus our priorities. I'm so thankful the Lord gave me more time on this earth to love, to serve, and to write.
Beyond My Wildest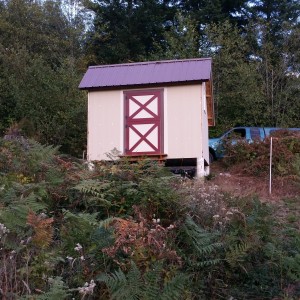 Anyone who knew me in the past knows my idea of roughing it was staying in a hotel without room service. A few years ago (while we still had young, strong sons-in-law living close by), we decided to purchase a small property in the Cascade foothills so our "someday" grandchildren would have a place to enjoy the Pacific NW wilderness culture. When our kids' jobs took them to different parts of the country, we still felt compelled to purchase the property—and here's the crazy thing—I LOVE IT! Yep…outdoor toilet, no shower, snakes, bears, and six miles off grid.
Roy built our first structure (shed/cabin) on the property this summer (with help from one of the sons-in-law), and we hope to do some inside-the-shed/cabin work this winter and spring. Tiny house living is quite the rage, you know! Though we don't ever plan to live there full time, it's definitely looking like a prime writing getaway!
What's Your List Like?
I hope my groupings of gratitude have jostled a few ideas in your heart and mind. What categories would you put in your Christmas letter to friends and family? Or maybe you'd be willing to share a little gratitude in the comments below…
"Praise the Lord, my soul, and forget not all his benefits—who forgives all your sins and heals all your diseases, who redeems your life from the pit and crowns you with love and compassion, who satisfies your desires with good things so that your youth is renewed like the eagle's."                 Psalm 103:2
Tweet-A-Licious!
Today's Question:
I'd love to hear what great things God has done in your life this year!