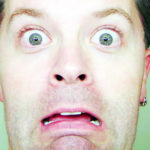 Think of the most violent movie you've ever watched. It's perhaps not the most violent I've seen, but Schindler's List is certainly hard to watch with its heart-rending portrayal of the inhumane treatment of the Jewish people during WWII.
Why do we watch violence? Why do we rubber-neck at a car accident? What are we hoping to see? Why must some of us watch when the nurse gives an injection while others turn away?
Perhaps it has something to do with searching for a reason behind the pain. If there's a lesson to be learned from the violence, it's somehow bearable to see. I believe the lessons learned from the biblical Book of Judges may be the only good reason to read it–so let's skim through some troubling insights.
A Treasure on YouTube
I tried to find a concise way to sum up the state of the Israelites after the death of Joshua. Let's see: They sort of went from bad to worse to…looking up to wipe whale dung.
Not my most poetic writing, huh? So here's a group of guys on YouTube.com that tell the story of Judges much better. One of them is a graduate from Multnomah University, where my hubby used to teach, so I trust their well-grounded knowledge of Scripture. Here's their VERY informative video on Judges from The Bible Project.
CLICK HERE if you'd like to donate to The Bible Project and help them create more great video teaching tools!
Submission is a Good Thing
Judges teaches us that REAL PEOPLE need REAL LEADERS. No matter how independent we think we are as sheep in God's pasture, our relationship with Him works best when we have an earthly shepherd.
"Submit to one another out of reverence for Christ." Ephesians 5:21
What do we do when a good and godly leader isn't available? The Book of Judges is FULL of examples of bad leadership. And if we look to the New Testament, Paul and Peter were writing their letters during a time of much persecution in Rome—leaders who were trying to murder them! So what did Peter have to say about submitting to leaders?
"Submit yourselves for the Lord's sake to every human authority." 1 Peter 3:13 (emphasis added)
If for no other reason, we must submit to earthly authority simply for the Lord's sake. Peter goes on to give us even more reasons to submit…
"For it is God's will that by doing good you should silence the ignorant talk of foolish people…Show proper respect to everyone, love the family of believers, fear God, honor the emperor." 1 Peter 3:15,17 (emphasis added)
So, I'll leave you with this final thought: Submission is a little like eating vegetables—spiritual roughage. It's good for us and makes everything come out right in the end. At least now maybe you can submit with a smile.
Tweet-A-Licious
Question of the Day
What reasons do you give for not being submissive to authority? How do these reasons stand up to God's directives?