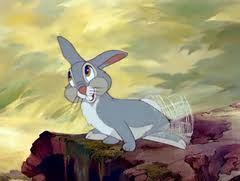 I'm in New Mexico this weekend, speaking at a women's retreat on my favorite topic, Sacred Love, Sacred Dance. These precious women and I will laugh and cry our way through all eight chapters of Solomon's Song of Songs.
When we're finished, I believe they—like many retreat-ladies before them—will love our God in a new and profound way.
I'll start by asking them these questions: Can you describe love? How does it make you feel—inside and out? Seriously. Think about it.
Heart racing
Sweaty palms
Butterflies in your stomach
Can't concentrate on anything but your beloved
When our girls were little, they loved the movie, Bambi, and I'll never forget the little rabbit named, Thumper. Do you remember why he thumped his foot? Because he was "twitterpated!" Springtime prompted all woodland creatures to find their counterpart, and then couplets of bunnies, raccoons, and deer became utterly twitterpated!
What Kind of Love Does God Desire?
Surely, God doesn't expect us to be twitterpated about Him. There's nothing reverent about sweaty palms or thumping feet, right?
I think Scripture would disagree. I believe God desires twitterpated disciples.
Solomon's Song of Songs delves far deeper than a kiss on the cheek, and when the sinful woman (Lk.7:37) and Lazarus's sister, Mary, (Jn.12:3) wiped Jesus' feet with their hair, it wasn't like shaking hands with cousin Frank. And when the Apostle John—the disciple Jesus loved—leaned against his Master on the last night of Jesus' earthly life, we can literally feel the depths of their friendship (Jn.13:25).
Love in the Garden
To discover the kind of love God seeks, let's look back at the Garden of Eden—before sin marred our relationship with the Creator:
"Now the Lord God had planted a garden in the east, in Eden; and there he put the man he had formed. And the Lord God made all kinds of trees grow out of the ground—trees that were pleasing to the eye and good for food…A river watering the garden flowed from Eden; from there it was separated into four headwaters…The Lord God said, 'It is not good for the man to be alone. I will make a helper suitable for him'…Then the Lord God made a woman from the rib he had taken out of the man, and he brought her to the man…The man and his wife were both naked, and they felt no shame…Then the man and his wife heard the sound of the Lord God as he was walking in the garden in the cool of the day…"  Genesis 2:8-10,18,22,25; 3:8
Do you see the care with which our God prepared every detail for the man and woman created in His image? Can you imagine the freedom to walk and talk with God face to face in unfettered communion? Imagine the love Adam and Eve shared with God, the Creator of all.
Sin was more than disobedience.
It was a betrayal of that LOVE relationship—separating sinful man from a holy God. The Bible—every story, poem, song, and prophecy—is a recounting of God's plan to restore that transparent, unfettered relationship between the Creator and those created in His image.
But How—How Do We Love the Holy?
God marched toward reconciliation from the Garden to Noah to Abraham, Isaac, and Jacob. And when the Children of Israel were delivered from Egypt, He finally dwelt among men again for the first time since the Garden—in the Tabernacle. When Yahweh re-established His presence among His people, He also revealed the desire of His heart:
"Love the Lord your God with all your heart and with all your soul and with all your strength."   Deuteronomy 6:5
Let's be gut-level honest here…it's hard to get twitterpated about a God we can't see, hear, touch, smell, or taste. Our five senses are vitally important to any emotional response. So, how do we love a God we can sense only through our spirits? We let His Word shape our emotions. It's our only tangible connection to His Spirit.
Consider how God describes Himself in Scripture and then let your love grow as He reveals His care for you in that role.
"If you, then, though you are evil, know how to give good gifts to your children, how much more will your Father in heaven give good gifts to those who ask him!"          Matthew 7:11
As your Bridegroom or Husband:
"For your Maker is your husband—the Lord Almighty is his name—the Holy One of Israel is your Redeemer; he is called the God of all the earth."         Isaiah 54:5
"I am the good shepherd; I know my sheep and my sheep know me—just as the Father knows me and I know the Father—and I lay down my life for the sheep."         John 10:14-15
Fear of Earthly Love
I used to be afraid that if I loved my husband or children too much, my wrathful god might take them from me because I didn't obey Deuteronomy 6:5 and love him most of all.
That's a lie, and it smells like smoke from the pit!
Our God gives us earthly love so that we learn how to love HIM! The more we love others, the more our hearts expand with greater capacity to love the Lord.
When Jesus was asked about the greatest commandment, He offered two together…because they're inseparable!
[Jesus said,] "Love the Lord your God with all your heart and with all your soul and with all your mind and with all your strength. The second is this: 'Love your neighbor as yourself.' There is no commandment greater than these."            Mark 12:30-31
So, go ahead—get twitterpated. About your husband, your kids, your parents, your friends—and your God. Because our God is head-over-heels in love with YOU.
Tweet-A-Licious!
Today's Questions:
Have you ever felt "twitterpated" when thinking about Jesus? Reading your Bible? Praying? Worshiping?
When you hear, "Love the Lord your God with all your HEART, MIND, SOUL, and STRENGTH," where does the feeling part come in? Heart? Mind? Soul? or Strength? And why do you think so?