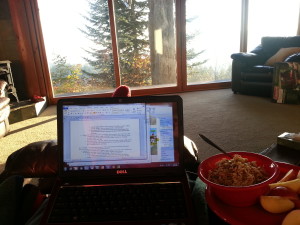 I've been at our friends' mountain cabin now for six days (It's actually been a week, but I went home for a shower in the middle). This is the second year the Long's have generously made their off-grid cabin available for my writing excursions. The place is amazing. Breath-taking view. Plush carpet, and a comfy recliner for writing. It has propane-generated electricity, a heater, internet, and a Thetford Curve port-a-potty (with a battery flusher)—what more could I ask?
I love the mountain. Someday I'd like to build a cabin on our property and bless others as our friends have blessed me. Until then, the mountain and I are getting to know each other.
No Lions or Tigers, But a Bear!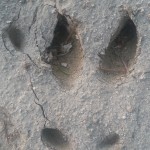 Last week, one of our neighbors (yes, we have neighbors on our mountain) shot a black bear. This caused me more than a little concern since I'd seen three sets of tracks down at a clearing where hubby and I watched the July 4th fireworks.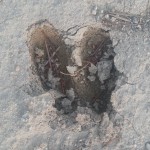 Like an experienced city-girl, I pulled out my cell phone and took pictures of the animal tracks that night, thinking I might work on my tracking skills in my spare time. Low and behold those pictures came in handy, when I saw our neighbor the next day! I showed him the pictures, just sure one was the bear he'd shot.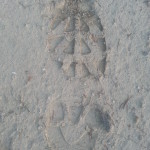 He tried not to laugh. He's such a nice guy. "No, Mesu. Those are both deer tracks. One is walking and the other one is running."
Looked like a bear to me. But I did get the third set of tracks right. It was our other neighbor, Phil.
Mountain Experiences
Only six days in, and I'm already having lots of great mountain experiences. Today, a hummingbird tried to fly into the cabin for a visit. It hovered at the doorway, tapped its beak on the glass, and has been back several times to say "hi." I'm looking forward to more visits from him (or her) this summer.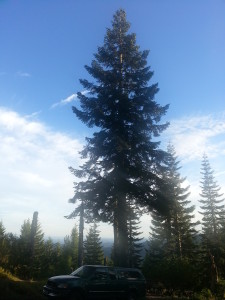 A few nights ago, I saw bats for the first time. Eeeeewwww!!! Creepy night creatures! They, too, were flitting outside the wall of glass, but unlike the hummingbirds, I wouldn't mind if they found someone else to visit.
The wildflowers are beautiful. The snakes are icky. The trees are enormous. The lizards are adorable.
The mountain is a wondrous place, but it's also dangerous. I dare not forget that.
Our Little Hike
Hubby was here for our first three days at the cabin, and on our way home, we decided to take a hike—in our truck, of course—across the ravine to Silver Star Mountain. It's the peak our property faces.
As we drove on unfamiliar roads, deeper into barren territory, I became more uneasy, frightened even. Silver Star looks different when you're in the midst of its trees and cliffs and rugged terrain. Just when I was about to ask Roy to turn around and go back to our little off-grid community, we rounded a bend in the road and saw a line of cars parked by a trailhead—hikers, who had backpacked even further up the mountain and camped for the July 4th weekend.
Lunatics, all of them! was my first thought. Then, remembering I'm just a flat-lander from Indiana, I envied them. I envied their level of comfort with nature. Their knowledge of God's creation. Their ability to embrace an environment they couldn't control.
I had no wish to join them, mind you! But I envied their relationship with the land.
So What?
Don't worry. I'm not worshiping land or trees or mountains or stars or sun or moon. Paul warned about all that deception in Romans:
"They exchanged the truth of God for a lie, and worshiped and served created things rather than the Creator—who is forever praised."      Romans 1:25
I worship only One God, Yahweh, who revealed Himself through His Son, Jesus Christ, and who lives within me through His Holy Spirit.
But in six days on this mountain I have seen my relationship with Him as never before. I hope you can catch a glimpse of what I've experienced…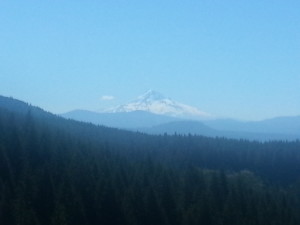 Sometimes I see God this way…magnificent, majestic, grand, and glorious…a panoramic view of His Majesty in heaven. He who was, and is, and is to come. Eternal. Life-Giver. Beyond my capacity to grasp or even imagine His fullness.
"Your righteousness is like the mighty mountains, your justice like the great deep. O Lord, you preserve both man and beast."      Psalm 36:6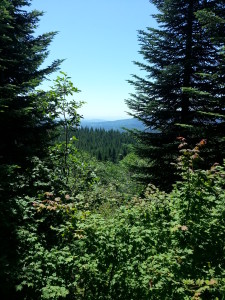 Sometimes I see God this way…layers of revelation…the Great Revealer, who dwells within, showing me possibilities, beckoning me to an adventure—rivers to cross, hills to climb, valleys to endure—all for the purpose of knowing Him more deeply.
"And I will ask the Father, and he will give you another Counselor to be with you forever—"       John 14:16
Sometimes I see God this way…in the thicket…the rugged God, who disciplines more lovingly than any Father and loves more intimately than any Husband. But it can be frightening in the thicket of God's trees, and cliffs, and rugged terrain because here…we give up complete control. The thicket is a dangerous place—but the most beautiful place—for it is here that we must cling to our God or be destroyed by our own foolishness.
"Fear the Lord your God and serve him. Hold fast to him and take your oaths in his name."            Deuteronomy 10:20
The truth is—there is beauty and danger no matter how we view God. I guess we all live on a mountain. We dare not forget it.
Tweet-A-Licious!
Today's Question:
Which is harder for you—to think of God as beautiful or dangerous?