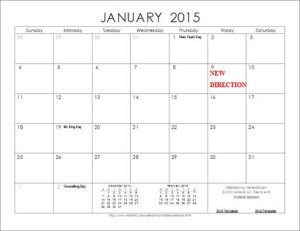 It's January 9th, and by now many are struggling to keep those New Year's resolutions—if we were brave or foolish enough to make them. I used to make New Year's resolutions, but after a few decades of failure, I decided not to try another one.
A Resolution Evolution
During my quiet time on New Year's Day, the Lord directed my attention to a grace-filled list of "guidelines" in a Bible study I'm doing with a couple of friends (CLICK HERE for Bible study info). I posted the list on my Facebook Page, but I think it's good enough to share again for those who may not have seen it.
Is there any sin which you have not confessed or repented of?
Is there anything doubtful in your life—any behavior that you are not sure is pleasing to God?
Are you remaining WILLFULLY IGNORANT of what in your life does not please God?
Do you openly speak about Christ to those around you?
Are you willing to follow the Spirit and immediately obey?
I call these guidelines "grace-filled" because the lesson surrounding them describes a heart condition that is God-focused, not me-focused.
My Personal Conviction
I'll confess to y'all that one of my weak spots, where Satan tries to clog my mind, comes through entertainment. I love movies—any kind of movies. Comedy, drama, thriller, action. Doesn't matter. I love them all (except horror/demonic/supernatural-thriller).
It's not wrong for me to enjoy movies. It IS wrong, however, if movies become my GO-TO distraction or crutch when I'm feeling depressed, discouraged, or lonely. If I turn to anything else for consolation—rather than running to my Savior, Lord, and King—I've let that thing shove Jesus off the throne of my heart.
Using the Guidelines
The section above describes my process to discover my personal answers to guideline questions 1, 2, and 3. Let the Holy Spirit whisper His gentle conviction, massaging your conscience toward confession and repentance as you seek your own answers to those questions.
Guideline question #4—speaking openly about Christ to those around us—keeps Jesus at the forefront of our consciousness throughout the day and will inevitably help with the new path we've chosen for our repentance. Old habits aren't easy to break. A trail of failed New Year's resolutions is testimony to that! But keeping Jesus Christ on the tip of our tongue will help us honor fresh commitments.
Do It Now
Guideline #5—to follow and obey the Spirit's leading immediately—is perhaps hardest for procrastinators. I know y'all will own it and agree—in a minute or two. 😉 Urgency is most often dictated by those things we can see, taste, touch, hear, and smell—dirty diapers, alarm clocks, iced frappuccinos, and the next big sale. Obedience to God's inner urgings—though more important—may take a back seat to the urgent things pressing our outer world.
The answer? DO. IT. NOW.
Whatever God is whispering as you read these words…do it now.
[Cornelius explained to Peter,] "Suddenly a man in shining clothes stood before me and said, 'Cornelius, God has heard your prayer and remembered your gifts to the poor. Send to Joppa for Simon who is called Peter…' So I sent for you immediately…"                         Acts 10:30-33 (emphasis added)
Granted, Cornelius had the benefit of seeing the shiny angel, but it's that Cornelius-kind-of obedience we must cultivate to become doers of the Word and not hearers only.
"Anyone who listens to the word but does not do what it says is like someone who looks at his face in a mirror and, after looking at himself, goes away and immediately forgets what he looks like."   James 1:23-24 (emphasis added)
Revelations, Not Resolutions
What would happen if we waited quietly for the Lord to reveal what He wanted to change in us—rather than choosing a list of random New Year's resolutions?
If you're willing to sit quietly and listen, I know a Living God who has promised to speak…
"You will seek me and find me when you seek me with all your heart."       Jeremiah 29:13
Tweet-A-Licious!
Today's Questions:
Have New Year's resolutions been helpful for you in the past or discouraging?
How can you incorporate some of today's thoughts into a healthy start for 2015?