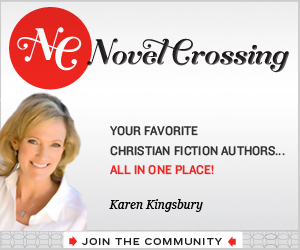 I've discovered an online community of readers where you'll find The Intersection of Fiction and Faith: www.NovelCrossing.com. If you love Christian fiction, and you want to read the best on the market, this is a website you need to see—and visit often!
NovelCrossing Has A Heart For You!
Unlike the standard reader-based sites, NovelCrossing has designed its pages to fit your needs. And their very first contest shows it! Rather than choosing a generic book to give away, NovelCrossing will randomly choose a couple of winners from their growing members list and give each winner a book on his/her "To Read" bookshelf!
CLICK HERE for full contest information.
It's only one example of the way NovelCrossing is determined to serve their readers.
NovelCrossing.com—Like a "Pinterest" for Book Junkies.
NovelCrossing is my new addiction! But let's just get the truth out there in the open…no one needs another "time suck," right? So, how is it going to HELP, not hinder, my already full life? Here are a few great ways I see NovelCrossing already improving my reading world:
Helps me to search for books by genre, author, format, or release date.
Keeps a list of books I've already read.
Keeps a list of books I want to read.
Lets me read reviews of books I'm considering and write my own reviews to help others.
Keeps me up-to-date on new releases.
Feature articles and news from my favorite authors.
Let's Be Reading Buddies!
I love to see what other people are reading, and I've often wanted to share my thoughts with someone when I finish a book. Now we can do that on NovelCrossing! With a "Friends" system similar to Facebook, we can become reading "friends" and give special folks permission to see our reading list. When I finish a book–or begin one–I can see if any of my other friends have read it and "chat" about it! How fun is that?  😉
For Those Who Like Freebies
Because NovelCrossing.com is committed to a close-knit reading community, they're looking for folks who are excited to help promote their new site. If you love to read, and are excited about sharing what you're reading, you can apply to become part of NovelCrossing's "Street Team." NC's Street Team will receive period free books, special promotions, and sneak-peek information before the main-stream audience sees it. CLICK HERE for more information about NC's Street Team.
What Do You Think?
Those are some of my favorite things about www.NovelCrossing.com. I hope you'll visit the site, sign up, and add a few books to your "To Read" shelf so you have a chance to win! Then let me know what you think of the site! You can find me on the NovelCrossing Author Page here: http://www.novelcrossing.com/author/1863/mesuandrews! Happy reading!