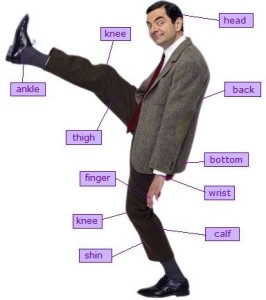 Well, it's been over a week since my surgery, and I'm finally adjusting to life without parts of me. It doesn't matter that they were non-essential parts. I'd grown attached to them, so I sort of miss them now that they're gone. Ya know?
The whole experience has made me a little more aware of the complexity of bodies in general. I first became fascinated with the medical field when I worked for an ophthalmologist in Ashland, Ohio. I was Dr. Gupta's scribe, following him from room-to-room and patient-to-patient, writing down everything he said as he rattled off his findings. He would often call me over to observe pathology through his slit lamp and he even let me watch several in-office surgical procedures. Coolest job ever.
One With Many Parts
I learned that the eye isn't just one part of the body. A single eye has many parts. So it is with other parts of the body. A hand has bones, nerves, nails, and tendons. A mouth has teeth, gums, a tongue, etc..
Scripture takes this "one with many parts" concept and applies it to the whole body, but adds a twist:
"Just as a body, though one, has many parts, but all its many parts form one body, so it is with Christ."    1 Corinthians 12:12
The rest of 1 Corinthians 12 describes the various spiritual gifts and the Church being formed by many members, but I'd never seen this one little verse that describes Jesus Himself as made up of many parts. In order to appreciate the complexity of Jesus's many parts, perhaps we should further contemplate the human mystery…
Our Complex Savior
The human body is fascinating. As someone who has struggled with chronic pain and illness since 1997, I have come to truly appreciate the intricacies of muscles, nerves, joints, and organs working (and not working) in perfect unison.
No symphony can compare. No invention can compete. Yet we have significant limitations that Jesus doesn't have.
Jesus, in His humanity, experienced every physical part that we live with today. He experienced hunger, so his taste buds, esophagus, stomach, and intestines worked to nourish His body with the proteins, fats, and carbohydrates that He needed to survive. Now, however, Jesus is reigning at the right hand of our Heavenly Father as Son of God, Son of Man as the firstborn from among the dead.
"And he is the head of the body, the church; he is the beginning and the firstborn from among the dead, so that in everything he might have the supremacy."      Colossians 1:18
We don't know exactly what form He'll take or we'll take when we meet Him in heaven, but John's Revelation gives us a glorious picture of some of His parts:
[The Apostle John said] "I saw heaven standing open and there before me was a white horse, whose rider is called Faithful and True. With justice he judges and wages war. His eyes are like blazing fire, and on his head are many crowns. He has a name written on him that no one knows but he himself. He is dressed in a robe dipped in blood, and his name is the Word of God…Coming out of his mouth is a sharp sword with which to strike down the nations…He treads the winepress of the fury of the wrath of God Almighty. On his robe and on his thigh he has this name written: king of kings and lord of lords."             Revelation 19:11-16
Worship His Parts
I don't know about you, but there are days when I need the comfort of knowing my Savior experienced human need and overcame it. I need the assurance that He didn't leave us as orphans, but instead sent His Holy Spirit to dwell within each believer every moment we have breath (John 14:18). But there are also times when I need to remember that my Jesus is King of Kings and Lord of Lords, that He reigns over heaven and earth, over principalities and powers.
You see, when we know His parts, we can praise Him more deeply and trust Him more fully. When we contemplate His parts, we ponder His mouth of wisdom, His heart of love, His hands of protection, His arms of power, and the list goes on and on and on…
Consider each part of Him—and then each part of that part. We'll never reach the end of His majesty.
Tweet-A-Licious!
Today's Question
What part of Jesus is most precious to you?