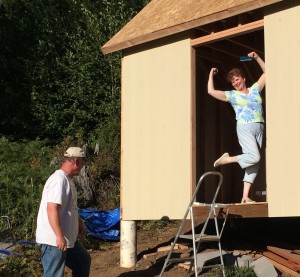 We were newlyweds during a typical Indiana summer—hot, humid, and no breeze—and our 14'x70' mobile home had no air conditioning. Thanks to my parents' generosity, a brand new window air conditioner had landed in the trunk of my car. Hubby Roy said he needed help getting the AC out of the trunk, but our neighbors weren't home. I was 6-months pregnant, but because the inside of our trailer was nearly 100 degrees, I suddenly felt very strong. We lifted that AC out of the trunk like it was a trinket. Roy looked at me, mouth agape. If I'd have been green, he'd have called me The Hulk.
I've never felt stronger.
It was early one July morning in 2002, and I slowly woke from a fitful sleep. I became aware that my arms and legs felt like lead, my chest felt weighted to the bed. Breathing was labored, and when I tried to raise my head from the pillow—I couldn't. Nothing moved. Now fully awake, panic set in, and I mustered a full-throated shout that escaped as no more than a whisper. "Help me." Later, I was able to stand, then to get to the doctor's office. Tests and more tests—none of them conclusive. I spent the next six months in bed.
I've never felt weaker.
God Promises Strength For Our Weakness
When I was a healthy, happy newlywed, lifting air conditioners with a single umph, I believed in Jesus Christ and had accepted Him as my Savior. But He wasn't my Lord. I was naturally capable, which made me less likely to rely on God's supernatural help.
As the years have worn on, this earthly body is wearing down, and I find myself more in need of God's intervention.
"My grace is sufficient for you, for My power is made perfect in weakness."          2 Corinthians 12:9
This verse, that was once just pretty stitching on a pillow, has become my daily reality.
Self-Sufficiency Strangles God's Strength
However, I find it hard to ask for help, and my people-pleasing nature struggles to tell anyone "no." Self-sufficiency is a $10 word for a whole lot of sins I'd rather not name. Busy schedules, refusing to inconvenience others, and too little time spent alone with Jesus left me barely coping with life's demands last spring. The best word to describe how I felt? Brittle—as if I might break if I failed to meet the deadlines and demands weighing me down.
My focus was on me and my to-do list, not on God and His strength. Big mistake.
For those of you who have been following the blog through the summer, you know about our study, Sacred Rhythms. It was a life-saver for me. Though I didn't incorporate every spiritual discipline discussed in that book, there were three that made a significant impact and have become a part of my rule of life (see post from 7/31/15 for a discussion on that phrase): 1) solitude and silence, 2) Sabbath, and 3) a breath prayer.
Breath Prayer for Power
While doing the edits for Miriam, I realized Miriam and the Israelites knew and trusted in God's power but found it very difficult to trust in His nature because they simply didn't know Him very well—since He'd been silent for four hundred years.
I was convicted by this thought and found the opposite to be true for me. I haven't experienced the major movements of His power, as the Children of Israel did during the plagues, so it's easier for me to trust the nature of a God I know to be loving and good more than the power of my God–though I read about it in His Word.
Because of this realization, the breath prayer I'd been praying changed to:
(inhale) Show me Your power, Jesus. (exhale) Show me your power.
Within four weeks, I'd seen the Lord work miracles on my crazy schedule—things that only a supernatural God could do with the limitations of my worn-out natural body. At one point, I felt His presence so profoundly, I spoke out loud to Him in my living room. I truly expected to hear Him thunder back His reply. (He didn't, but at least now I believe He might!)
God's Power Defined
The beauty of God's Word is its practicality. As I've prayed this breath prayer hundreds of times, I'd never thought to ask the question: What is God's power? But one morning during my quiet time with Him, He answered my unasked question.
"For the message of the cross is foolishness to those who are perishing, but to us who are being saved it is the power of God."                       1 Corinthians 1:18
There it was, the definition of God's power: the message of the Cross.
Practicality of His Power
The application of God's power to your life will look different than it does in my life. For me, the message of the Cross means I will continue to write Old Testament stories that display God's New Testament love.
Miriam is ready for its third round of edits, and it's time I begin a new book. New story, new characters, new location—it's all a little daunting each time I stare at that blank page.
Show me Your power, Jesus. Show me Your power.
I want it to be the story God is leading me to write. I think I know the topic/characters/setting, but I want to be certain. I need His undeniable leading. And after seeing Him work so profoundly over the past weeks, I know He will give it.
What about you? Where do you need to see God's power at work in YOUR life? Are you willing to step out in faith and ask Him to show you His power? The message of the Cross can bring power to any aspect of your life. We need only ask, watch, and wait.
The Cross—that's where the power lies for my writing, for your reading, for our living.
Tweet-A-Licious!
Today's Question:
Which aspect of God is easier for you to trust in: His nature or His power?