Welcome to the…
Christian Fiction Scavenger Hunt!
I am a part of TEAM PINK, and this is Stop #13. If you're just joining us, there are two loops—pink and purple—and they begin at Lisa Bergren's site (purple loop) and Robin Hatcher's site (pink loop) for stop #1 on either stream. If you complete either the pink or purple loop, you can enter for a Kindle paperwhite and the 17 autographed books from that loop. If you complete BOTH loops, you can enter for the Grand Prize of a Kindle Fire HDX and ALL 34 autographed books.
BE SURE to keep track of the clues at the bottom of every post in the loop and the favorite number mentioned. You'll need those clues to enter for the loop prize and every number mentioned in order to enter for the grand prize.
ALSO, please don't use Internet Explorer to navigate through the loops. Some web sites won't show up using IE. Please use Chrome or Firefox—they're better anyway!
Without further ado…
It's my pleasure to introduce you to my guest for the Scavenger Hunt, Hillary Manton Lodge. I first met Hillary at a writer's conference two years ago and discovered we have much in common. We live in neighboring cities, we share the same publisher, and we love dogs–well, she loves her dog, Shiloh (and I want a dog just like Shiloh!).
Here's a little more about Hillary:
Hillary Manton Lodge writes eclectic fiction for the foodie's heart. When she's not writing, Hillary enjoys exploring her latest hometown of Portland, Oregon, with her husband and their Cavalier King Charles Spaniel.
Here's the summary of Hillary's latest release, Reservations for Two: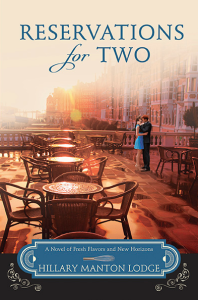 A culinary concoction of taking chances and finding love in the most delectable places
Food writer-turned-restaurateur Juliette D'Alisa has more than enough on her plate. While her trip to Provence might have unlocked new answers to her grandmother's past, it's also provided new complications in the form of Neil McLaren, the man she can't give up. 
Juliette and Neil find romance simple as they travel through Provence and Tuscany together, but life back home presents a different set of challenges. Juliette has a restaurant to open, a mother combating serious illness, and a family legacy of secrets to untangle – how does Neil, living so far away in Memphis, fit into to her life?
As she confronts an uncertain future, Juliette can't help but wish that life could be as straightforward as her chocolate chip cookie recipe. Can her French grandmother's letters from the 1940's provide wisdom to guide her present? Or will every new insight create a fresh batch of mysteries?
To read the first chapter, click here.
And here's Hillary's EXCLUSIVE content, that you'll only find in this hunt!
There's something magical about baking. I love how you can put something vaguely unappealing into the oven, and return to discover something else entirely. Something else emerges – something aromatic and appetizing, golden brown and beautiful. It's a handy metaphor for renewal and transformation – and a tasty one!
In my upcoming novel, Reservations for Two, my main character, Juliette D'Alisa, cooks when there's a need, when friends gather, and when she just needs to shake off a difficult day. As we follow her into book II, we find Juliette struggling with factors beyond her control – the fact that the man she loves lives far away, complications with the opening of her restaurant, and her mother's illness. While she can't change her circumstances – of the circumstances of those around her – she can make sure that everyone around her is well-fed. To Juliette, food equals love. And everyone around her is well-loved indeed.
The recipe below is an especially good example of the kind of transformation that baking can bring, because it makes good use of overripe bananas. Bananas you wouldn't want to eat plain are perfect once mashed and baked into a cake! Loosely adapted from the Banana & Cinnamon cake in Amber Rose's Bake Love Nourish cookbook, this chocolate-studded banana bread smells particularly fragrant coming out of the oven.
~ Chocolate Chip and Cinnamon Banana Bread ~
1 ½ cup whole wheat pastry flour or spelt flour
2 tsp baking powder
½ tsp baking soda
1 tsp fine sea salt
1 tsp ground cinnamon
1 stick plus one tablespoon (9 tablespoons total) unsalted butter, melted and cooled
½ cup maple syrup
2 eggs
4 very ripe bananas, well-mashed
1 cup mini bittersweet chocolate chips (more if the Spirit moves you)
1 tsp vanilla or vanilla bean paste
Set the oven rack to the center and preheat to 350 degrees. Prepare a 9-inch Springform pan by greasing and flouring it; if you're using a glass and silicone pan, no need to prep.
Mix the flour, baking powder, baking soda, salt, and cinnamon together in a small bowl. In a medium sized bowl, stir together the bananas, maple syrup, melted butter, eggs, and vanilla.
Add the dry ingredients to the wet ingredients and stir together until well-blended but still slightly lumpy. Add the chocolate chips (regular chips are pictured here, because it's what I had), and then pour into the pan.
Bake for 45-55 minutes, or until the cake has pulled from the sides and a knife inserted into the center comes out clean. Allow to cool about 10 minutes before serving.
THE SCAVENGER HUNT SKINNY:
The Hunt begins at NOON Mountain time on April 16 and ends at midnight Mountain on April 19, 2015, so you have a long weekend to complete all 34 stops and maximize your chances at prizes!
Before you go, make sure you WRITE DOWN THESE CLUES:
Secret Word(s): CHANGE
Secret Number: 48, my age when my first novel was published.
Got 'em down?? Great! Your next stop is #14–CLICK HERE to proceed to Hillary Manton Lodge's website. And if you get lost, CLICK HERE for a complete list of all the links on the pink loop.
Before You Go…
Please consider entering my mini-contest! You could win a…
Mosaic Trinket Box
Simply click into the Rafflecopter gadget below. There are 4 ways to enter:
Leave a comment below
Visit my Facebook Page
Follow me on Twitter
Post a Tweet on Twitter (one per day)
Rafflecopter collects all data. Deadline to enter is April 20th @12a.m. Winner to be announced on Mesu's FB page and blog on Friday, April 24th. Trinket box shipped to U.S. address only. If winner is international, he or she will be awarded a gift card of equal value.