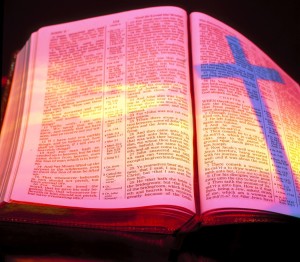 Many of you have heard or read my testimony of conversion and the reason I'm so passionate about God's Word. Having grown up as a "spiritual mutt"—my mom is Charismatic, dad was Quaker, grandparents were Pilgrim Holiness ministers—I was utterly confused as a kid about what Scripture had to say about some key theological issues.
When I finally took time to read and study God's Word for myself, I found the single story of Genesis to Revelation so fascinating that I've never been able to get enough! Sixty-six books written over a span of 1,500 years by forty separate scribes with a compilation of three different languages from the lips of One, Eternal Author—the Bible is the #1 best-selling book of all time. Why? Why was it written, and why should we read it?
Purpose of Scripture
Sometimes, like when we're involved in a Bible study, we read Scripture for information, but for our daily intimate moments with God, that reading should be for transformation—and we must use different methods for the different purposes.
Since much of my Bible reading these days involves preparation for writing books or blogs or newsletters, I've noticed the same sinister trend invading my personal quiet times that Ruth Haley Barton expressed in Sacred Rhythms. I had let ALL Scripture reading become cognitive, information-related rather than transformative, and it was sapping the intimacy I once enjoyed with my Savior.
I read with an eye for what I could share with others in a book, blog, or newsletter. Somewhere along the line, I stopped asking, "What is God saying to me and only me?" As with most sin, it happened slowly as the busyness of my schedule demanded more productivity and less time to contemplate what is required to maintain intimacy with a holy God.
Reading Scripture in His Presence
I tend to be pretty hard on myself, to the point of self-deprecating if I'm not careful. I could claim the worst sin in every Scripture if I didn't allow the Spirit to pour out His grace as I read. Are you like me?
Perhaps you're the opposite. Perhaps you're an excuse-maker and find reasons for your innocence no matter what sin you've committed.
Whether you're at one extreme or the other—or if you're a happily-normal middle-ground person—when we read God's Word to deepen our relationship, we must read it as a love letter, not a textbook.
When I read Scripture as a love letter, every word becomes a new revelation of my Beloved. Every promise is an expression of His love, and every chastisement is His heartfelt yearning for deeper intimacy.
According to Ruth Haley Barton, three questions help us search our hearts when we read God's Word in His presence:
How do I feel about what is being said?
Why do I feel this way?
What do my reactions tell me about myself—my attitudes, my relating patterns, my perspectives, my behaviors? Am I willing to look at that in God's presence?
The Dance of Lectio Divina
Lectio Divina, translated sacred reading, is a process that helps us with transformational reading and is practiced in four "movements"—like a dance. It's a delicate balance of reading and listening that has been used by church fathers and mothers for centuries to quiet the chaos of life and experience God's Spirit beyond the cognitive gathering of information.
To prepare, choose a passage of Scripture no more than 6-8 verses in length. Then, to still your heart, begin with a time of silence in God's presence.
Read the Scripture passage once or twice, listening for the word or phrase that strikes you. Savor it, repeating it without trying to figure out what it means or why it was given.
Read the passage again. This time ask, "What is it in my life that needed to hear this word or phrase today?" Or if the passage is a story, ask, "What do I experience through this word or phrase as I allow myself to become part of this story?" Allow for silence, and keep coming back to the word or phrase rather than thinking too much about the passage.
Respond to whatever God has shown you in the silence of the second movement. An invitation, challenge, revelation of His goodness, conviction of sin? Whatever you've felt, heard or discovered, give yourself fully to respond to God here.
 "When our response has been played out in all of its fury, angst, or exuberance, we come to a place of rest in God. Here there are no expectations, demands, no need to know, no desire but to be in the Divine Presence, receptive to what God desires to do with us."      ~ Marjorie Thompson, SoulFeast
When the response has subsided, read the passage a final time, and rest in your God. Enjoy His presence, knowing that the One who spoke to you will empower you to live out in daily life whatever He requires of you.
Personal Experience
I'm writing this on the second day of my Lectio Divina attempt. Yesterday I read 1 Samuel 1:1-2, and it was an epic fail. I really struggled to get out of my "study" mode, arguing with the study notes at the side of the page that said Elkanah was a Levite when the passage clearly called him an Ephraimite (1:1c). So, yah, I totally missed the point of Lectio Divina. Argh.
Today, I read 1 Samuel 1:3-8, and the phrase, "year after year," jumped off the page at me. First mentioned in v.3, the phrase describes Elkanah's faithfulness in sacrificing at Shiloh, but in v.7 it describes Peninnah's incessant taunting of Hannah regarding her childlessness.
What did year after year mean in my life? What was I faithful to do year after year? What plagued and taunted me year after year?
I must confess, my response in movement #3 took all day. I wrestled with God about the nearly ten years I've struggled with daily migraines and eighteen years with fibromyalgia—not because I have them, but because there's a new pain management program I think He wants me to look into—and the thought of it frightens me.
My current system of meds, rest, and work makes life bearable. I survive because I've learned to ignore the pain. If I begin this pain management program, I'll have to think about my pain again, describe it to doctors and therapists, and establish a new regimen of meds and lifestyle changes.
I'm still working on movement #4—resting in the Lord. Perhaps that will come tomorrow when I read about Hannah's prayer at the altar. I don't know. But I DO know God is working in me deeply, intimately through Lectio Divina—and that's what matters.
Your Experience This Week:
Please share your experience of Lectio Divina this week. Did you struggle as I did with the cognitive side of things? Or perhaps you experienced a wonderful revelation you'd like to share? Did you hear only silence in the silence? Don't worry. Be faithful to practice the disciplines in His presence, and the Lord will meet you there.
Remember, the comments below are a place to share our hearts, but we're not called to "fix" each other. It's when we encounter God in Scripture that He transforms us.
Tweet-A-Licious!