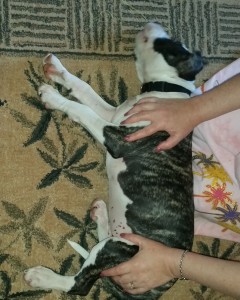 We've been taking Zeke to puppy kindergarten. They taught us something called the Restraint Exercise because someday Zeke might need to lie completely still for his own safety—at the vet's office, if he's been injured, etc. I lay him gently on his side, all four legs outstretched, and hold him there until he's completely relaxed. The first time we tried it, of course, he squirmed and squealed like I was killing him. The second time was better, and now, he only protests occasionally. He finally understands that my hands are gentle and safe even when he's most vulnerable.
I felt a little like Zeke while reading this week's chapter on self-examination. I don't like submitting to the calming hands of anyone, not even my loving Savior. Why is it so daunting to lie still and exposed before the God who already knows me? Perhaps because then I must know myself…
Remember That Cocoon?
Do you remember that the caterpillar's greatest energy output occurs while in the cocoon? So it is with our transformation during self-examination. Real transformation—which was our goal when we began this study—occurs as we quiet ourselves in deep introspection while wrapped in God's unconditional love. Ruth H. Barton described it this way:
"Self-examination is a practice that facilitates a spiritual awakening—an awakening to the presence of God as God really is and an awakening to ourselves as we really are."
We'll wrap ourselves in the cocoon of Psalm 139 for most of this discussion, so grab your Bible and open it to that transformative passage…
Examen of Consciousness
Surely, our first step in self-examination is to examine ourselves, right? Nope. Rather than beginning Psalm 139 with a plea for the Lord to search his heart, David actually ended the Psalm that way. The wise shepherd/king actually began the Psalm by acknowledging the Lord already searched him and knew him:
"(1) You have searched me, Lord, and you know me…(23) Search me, God, and know my heart; test me and know my anxious thoughts."            Psalm 139:1, 23
So, why ask God to search us after 22 verses of acknowledging that He already knows us? Because vs.1-22 are David's reminders to himself that God loves him (and us) even after knowing us so completely! Take time now to read ALL of Psalm 139, keeping in mind that it's written as acknowledgement of God's unconditional love for you…
God perceives my thought life (v.2)…and still loves me.
Before a word leaves my mouth, He knows it (v.3), and still He loves me.
He hems me in behind and before (like Zeke in the restraint position) because He loves me.
When we're secure in the cocoon of God's unconditional love, our transformation can begin with the Examen of Consciousness. Take a few moments to replay the events of your day and ask God to show you where He was present with you and how you responded (positively or negatively). It's all about thanking Him for His active presence in your life, for the growing freedom from sin, for a greater capacity to love Him and others. If there are unresolved issues or questions about the day, tell the Lord about it, but embrace His presence even in (especially in) the areas that feel dark or confusing. By recounting the moments when God was present, soon we'll begin to feel God's presence IN the moment.
Examen of Conscience
Examining my conscience was a bit scary. I was thankful that Psalm 139:13-14 began with a reminder to delight in…how God created me.
"For you created my inmost being; you knit me together in my mother's womb. I praise you because I am fearfully and wonderfully made; your works are wonderful, I know that full well."

Psalm 139:13-14
Before considering the sin in my life, it's helpful to remember the creative miracle that I am. I never think of myself as amazing, but when I think of myself as a product of God's creative power—THAT is amazing.
The part of me I'm more familiar with is the dark side—the sinful, judgmental, complaining, weary side: "If only you, God, would slay the wicked! Away from me, you who are bloodthirsty…I have nothing but hatred for them; I count them my enemies."        Psalm 139:19-22
I don't think I've ever used David's exact words, but I've felt his frustration, anger, and righteous indignation (and sometimes not-so-righteous). Have you? Allowing ourselves to voice dark emotions and work out difficult circumstances in God's presence is all a healthy part of the Examen of Conscience. Notice these are the final verses before David pleads for God's intervention:
"Search me, God, and know my heart; test me and know my anxious thoughts. See if there is any offensive way in me, and lead me in the way everlasting."       Psalm 139:23-24
Now that David (and we) are fully secure in the cocoon of God's unwavering love, we can express our deepest emotions and questions and then allow God to reveal to us whatever He has found to be true in the most secret places of our souls.
Confession
Confession is simply agreeing with God that we've fallen short of Christ-likeness in our attitudes, behavior, or actions. The author challenged us that to truly reconcile requires us to confess our shortfalls to God, to those we've wronged, and (when appropriate) to the church. And she didn't stop at just the shortfall. She challenged us to name the motivation. For instance, when I snap at my husband, I should say, "I'm sorry I was impatient this evening. I've been distracted by added stress and haven't given you my full attention like I should."
To reconcile with those we've wronged—even if they don't know we've wronged them—can be cathartic for us and might be instructive to the person with whom we reconcile. Ruth H. Barton shared a very transparent story about her teen daughter's experience and her daughter's lesson learned:
"I don't care what happens to me now. Now I know I am forgiven."
May that be our hearts' cry as we implement these practices of self-examination.
Personal Experience
Are you ready for brutal honesty? This was the hardest chapter for me yet. It's been my busiest week, and I'm weaning off one of my meds, so I'm struggling with screwed up sleep patterns. Concentration is a distant memory. I tried several nights in a row to practice the Examen of Consciousness and failed miserably with distraction, so I tried quieting myself and looking over my calendar for the past three days. THAT was actually a fantastic way to do it for me! Kept me focused, and I saw God's presence at work in some powerful ways over a period of time that I'd overlooked in the moment.
The Examen of Conscience has always been hard because I'm very quick to find fault in myself. It's easy for me to list a gajillion ways I fall short of Christ's example, and the enemy lurks close by with condemnation ready to defeat me:
I'm not patient with my new puppy.
I'm selfish.
I don't serve those I love.
I…I…I…
See what I mean? The kicker for me came in pinpointing, "Why am I doing these things. What inner spiritual issues are driving these outward sins?" That's where the rubber met the road for me because while examining why, I could actually test the truth of the accusation.
Finally, Confession…I haven't done it yet, but I will. I have three people (so far) that I need to speak with. I praise God for His grace that's been extended to me…and I pray others will extend it to me as well.
Tweet-A-Licious!
Today's Questions:
Which was the most difficult part of self-examination for you? Examen of Consciousness? Examen of Conscience? Or Confession?
Which was the most freeing?