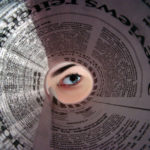 For several years now, I've been getting my news from the little blurbs on my internet homepage or the scattered feeds on Facebook. I can't stand watching any of the evening news—local or cable—because they're either too slanted or too jaded.
I admit, this has perhaps made me a little less "informed" than some of you. Let me assure you, however, that when it comes to the major issues facing our world, I seek out the information and get informed. The general impression I always walk away with is this: Our world is in chaos, and the very foundations upon which we've stood for centuries are being shaken. (How's that for a happy intro to today's topic? 🙂 ) But unlike the news networks, I hope to offer some firm footing amid the chaos…
A Sunday Sermon
A few weeks ago, one of our pastors shared the opening text of his sermon, Psalm 11. Can I confess? I groaned inwardly. It's been my experience that sermons based on texts without stories are notoriously dry, so any prophetic or poetic books need some major dressing up to make them applicable to our day. Thirty minutes later, the Lord showed me how wrong I'd been!
Our pastor Michael began by breaking down David's Psalm into two sections:
vs. 1-3 – The Chaos in David's World
vs. 4-7 – The Confidence in David's God
The only context we have for David's writing of this song is that he wrote it for "the director of music" or "the choir master." That means he wrote it for the leader of music to play anytime anyone felt the chaos in their lives demanded a healthy dose of confidence in God!
Enter David's Chaos
Verse one of the Psalm tells us the circumstances of David's chaos. He's in a jam, and his counselors are telling him to run! Likely, King Saul is chasing him down, trying to kill him. The mad king may have even surrounded David in the foothills of En Gedi (2 Sam. 23:26-27). And what is David's response?
"In the Lord I take refuge. How then can you say to me: 'Flee like a bird to your mountain.'" Psalm 11:1
David's starting point is, In the Lord I take refuge. Any other refuge his advisors suggest simply seems foolish if it contradicts that singular focus.
Were His Counselors Stupid?
It's important to point out that his counselors were offering sound advice based on the very accurate information they'd collected.
"For look, the wicked bend their bows; they set their arrows against the strings to shoot from the shadows at the upright in heart. When the foundations are being destroyed, what can the righteous do?" Psalm 11:2-3
The enemy was upon them, shooting arrows and destroying the very foundation of safety on which they stood!
And doesn't this message hold true for our world in the past few years no matter which side of the political aisle you sit on? Haven't we all felt the arrows being shot and the foundations of our nation being shaken?
Haven't we all cried from the depths of our souls, "What can the righteous do?"
If that sounds like you—as it does me—then we're acting too much like the counselors and not enough like David. The counselors and I aren't stupid. We're actually reading the signs of the times correctly. Our knowledge is accurate.
But our wisdom is lacking.
David's Answer to the Chaos
When his advisors recommend fleeing to the mountains because the enemy is about to overtake them, David's answers are totally God-focused. First, it's about position.
"The Lord is in his holy temple; the Lord's throne is in heaven; his eyes see, his eyelids test the children of man." Psalm 11:4
How can David run when God is sitting…on His throne? When we get a clear picture of our Heavenly Father SEATED on His Throne, we have no need to flee the enemy.
Testing vs. Destroying
A single tragedy is allowed to happen for God's very different purposes. His sovereignty is never challenged.
"The Lord tests the righteous, but his soul hates the wicked and the one who loves violence. Let him rain coals on the wicked; fire and sulfur and a scorching wind shall be the portion of their cup." Psalm 11:5-6 (ESV)
The Lord tests the righteous but destroys the wicked. The word for "tests" here has about it the idea of refining gold through fire to purify it. The NIV translates the word as examines. Chaos comes into a righteous person's world to purify, make them better, and draw them nearer to the Lord.
On the other hand, chaos destroys the wicked with fire and sulfur—similar words used for the destruction of Sodom and Gomorrah. Same chaos. Perhaps even same fire. Much different purpose.
Why Run to God?
In David's final words of this song, he summarizes the reason he runs to God amid the chaos. It's rather shocking…
"For the Lord is righteous; he loves righteous deeds; the upright shall behold his face." Psalm 11:7
David doesn't ask God for safety or protection. He runs to God because he's confident in God's character. He knows God is righteous, and David trusts that whatever He does will be for his good. David's job is to do righteous deeds, and his reward is beholding God's face.
BUT WHAT ABOUT THE CHAOS?!?!?!
What about it? Go back to verse one, and say these words with David, "In the Lord I take refuge"—your good God, seated on His throne, who is purifying you, and whose face you will behold as you draw nearer through whatever chaos comes your way.
It ain't about the chaos. It's all about God. Always has been. Always will be. Let it be so in us all, Lord…
Tweet-A-Licious!
Today's Question:
Which of the three responses (1. seeing God on His throne (sovereignty); 2. testing vs. destroying, or 3. trusting God's good character) is most helpful in dealing with your current world of chaos?