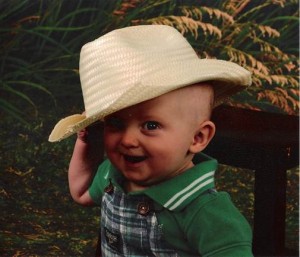 No one needs to learn how to sin.
Have I mentioned that I have the sweetest grandbabies on earth? But each and every one of them needs to be saved!
One of them cries—no, screams—when mommy takes away the bottle or binky. Another one gets told "no" repeatedly—and then smiles and reaches for the forbidden object anyway.
Sound familiar? My kids did the same things. And I'm guessing lots of little girls and boys have denied breaking mommy's trinkets—while still holding pieces in their little hands.
King David wrote:
"Surely I was sinful at birth, sinful from the time my mother conceived me." Psa. 51:5
He hadn't even met my grandchildren, but I suppose anyone who's spent more than ten minutes with a two year old can testify to a sinful nature. David was right. We struggle with sin from birth to death.
That's the bad news.
But as I read about the Israelites' first days of the Exodus, I found some good news about sin and our God…
God Is Never Surprised
Our sin is never a surprise to God. He knew before we sinned that we would choose to sin. He doesn't condone it. Doesn't like it. In fact, He hates it. But He loves us and isn't surprised, ashamed, or embarrassed by our weakness.
Look closely at the Ten Commandments. The first three prophesy the sins the Israelites were engaged in when Moses descended Mt. Sinai—moments after receiving the Law!
"I am the Lord your God, who brought you out of Egypt…You shall have no other gods before me. You shall not make for yourself an idol in the form of anything in heaven above or on the earth beneath or in the waters below. You shall not bow down to them or worship them; for I, the Lord your God, am a jealous God…" Exodus 20:2-4
God Knew Why They Sinned
God knew what sins His people would commit when fear conquered their fledgling faith.
"When the people saw that Moses was so long in coming down from the mountain, they gathered around Aaron and said, 'Come, make us gods who will go before us. As for this fellow Moses who brought us up out of Egypt, we don't know what has happened to him.' Aaron answered them, 'Take off the gold earrings…and bring them to me.'…He took what they handed him and made it into an idol cast in the shape of a calf…Then they said, 'These are your gods, O Israel, who brought you up out of Egypt.'" Exodus 32:1-4
God Already Provided a Plan
Since nothing surprises our God, He's able to fulfill His perfect plan regardless of our good or bad choices. The idea of God's sovereignty—His ultimate and complete authority over all things—is seen at its fullest in His gift of free choice to humankind. Only an infinite God could so graciously and humbly offer finite creatures the ability to choose so badly—and yet maintain His ultimately good plan.
Sin Means a Do-Over
After the heart-rending scene of sin at the base of Sinai, Moses and the Israelites endured a time of confession, repentance, and a redemptive process described in Exodus 32-34. Part of that process involved another trip up the mountain for Moses, new stone tablets, and forty more days of revelation. Sometimes sin destroys our firstfruits, but our wise God gives us an opportunity for do-overs…
"Moses was there with the Lord forty days and forty nights without eating bread or drinking water. And he wrote on the tablets the words of the covenant—the Ten Commandments." Exodus 34:28
On the first trip up the mountain, Yahweh etched the commands on tablets. This time, Moses took the chisel and hammer in hand, and recorded God's Laws by the sweat of his brow.
Good News: Repetition etches truths more deeply into our hearts. (And we always remember things better when we write them down, right?! 😉 )
Sin
Can

Authenticate Relationships

Consider Moses' heart for the Israelites. Way back in Exodus 19—when they first arrived at Mt. Sinai—the LORD told Moses to warn the people not to rush up the mountain to SEE God. Moses warned them. A few days pass, and the LORD instructs Moses to warn the people not to rush up the mountain to SEE God. Poor, sweet, naïve Moses thought he should only have to warn the Israelites once:
"Moses said to the Lord, 'The people cannot come up Mount Sinai, because you yourself warned us, "Put limits around the mountain and set it apart as holy."'" Exodus 19:23
Isn't that precious? He actually thought the Israelites listened when he spoke… However, after forty years of wandering in the wilderness, Moses had a clearer picture of his Israelite brethren and the human need for a gracious God.
"…Although this is a stiff-necked people, forgive our wickedness and our sin, and take us as your inheritance." Exodus 34:9
Good News: After witnessing years of personal and corporate sin, Moses yearned more for mercy, hated sin more deeply, and valued God's promises more highly.
Sin
Can

Build the Church

Have you ever wondered why Jesus commissioned the Church to reach the world with His message? Think about the imperfect, marred—and yes, even sinful—examples we sometimes present to the world. However, the Church weaves people's messy lives together, revealing the same lesson to multiple participants. If we're in relationship, as we're supposed to be, we learn from each other's sin enabling us to reach other sinners who need the grace and comfort we ourselves receive.

Good News: Sin is ugly and destructive, but the forgiveness that erupts from its depths can strengthen our relationships with each other and with the LORD.
Tweet-A-Licious!
Today's Questions:
How long has it been since you've felt the naked humility of personal sin and the special tenderness of God's grace? Spend some time meditating on Psalm 139:23-24, and ask the LORD to reveal any unrepentant sin in your life. Confess, repent, and rejoice in His mercy and grace!