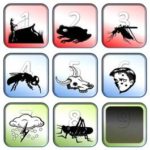 I believe God answers prayer. I suspect many of you would agree. However, we often look for the "BIG" answers and neglect His more subtle activity that surrounds us each day.
A few years ago, a local radio station challenged its listeners to call in with "God sightings" throughout the day. I usually listen to the radio only while driving, but I nearly always heard someone relay a wonderful story of how they'd witnessed God act in their every-day life. It became a great reminder for me to watch for Him in the mundane rather than in the spectacular alone.
Meaning of "I AM"
We talked in last week's podcast a little about God's Name (CLICK HERE to listen). When God spoke to Moses through a burning bush, He revealed the Name by which He was to be called for all time:
"God said to Moses, 'I am who I am. This is what you are to say to the Israelites: "I am has sent me to you." This is my name forever, the name you shall call me from generation to generation.'"     Genesis 3:14-15
As I researched for The Pharaoh's Daughter and Miriam, I read in my Jewish Study Bible the literal Hebrew translation of God's name, I AM:
"My nature will become evident from my actions."
This becomes especially significant when we remember what happened immediately after Moses and Aaron return to Egypt and revealed God's new Name to the Israelites:
Pharaoh orders them to make bricks without straw.
The Hebrew overseers are beaten for not making the brick quota.
Their only source of water—the Nile—turns to blood for a week.
Frogs infest EVERYTHING: houses, beds, ovens, etc.—and then die, are piled up, and stink!
Gnats infest people and animals everywhere. Not just any kind of gnats. These are thought to have been any one of several insects including: mosquitos, lice, gnats, ticks, mites, midges, and other various and sundry creepy things!
Not a great start for a God trying to make a good first impression, eh?
Gotta Keep Watching
As with most things about our God, He was teaching the Israelites patience in the process. Notice, even His name smacks of patience…My nature will become evident…
It wasn't until the fourth plague–the plague of flies–that He begins to make a distinction between the Egyptians and His people, the Israelites:
"But on that day I will deal differently with the land of Goshen, where my people live; no swarms of flies will be there, so that you will know that I, the Lord, am in this land." Exodus 8:22
From that point forward, each plague worsens in severity and maintains the separation and protection of God's people.
A Deeper Look
With a deeper look at the plagues, even more is revealed about our God's nature.
Plague #5 – Livestock
God protects the Israelites' livestock – the animals that worked the ground and made their already heavy burdens lighter.
Plague #6 – Boils
God inflicted boils on the Egyptians – attacking their flesh as the Egyptians had repeatedly abused and beaten the Israelites. Now their enemies would know the pain of open wounds.
Plague #7 – Hail
God shows His power over nature – lightning, thunder, and hail are at His command, destroying food, fields, and life itself.
Plague #8 – Locust
God uses a tiny insect to bring earth's most powerful nation to its knees – He commands the mighty and lowly, wielding them with wisdom as deadly as it is wondrous.
Plague #9 – Darkness
God uses the extremity of nature to show us our utter dependence on His mercy and His absolute dominion over all the earth.
Plague #10 – Firstborn
God demands that EVERYONE—both Hebrew and Egyptian—obey His requirements, opening the door for EVERYONE to partake of His salvation.
Our God By Other Names
In this crucial moment in Israel's history, God reveals His Name through His actions–Yahweh, the Name He wished to called throughout all generations. As the story of Scripture continues, God will continue to reveal new aspects of His nature and will describe Himself (and allow others to describe Him) with various personas and characteristics.
In John 10, Jesus called Himself the Good Shepherd. In Isaiah 54, God calls Himself our Husband, the Holy One of Israel. David described God with many word pictures. He was a Rock, Fortress, Deliverer, Refuge, Stronghold, Shield… WebBible claims there are over 900 Names and titles of God in Scripture (I didn't verify their claim).
My point is this: As we witness Yahweh's actions, His nature will become evident to us. He is still the I AM, and He is still in the business of revealing Himself through His actions. But we'll miss the subtle, intimate parts of His character if we aren't intentional about watching for Him. How do we become intentional? Let's start here by answering the question below.
Let's get to know the I AM!
Tweet-A-Licious!
Today's Question:
How have you seen God at work in your life today, this week, this month?