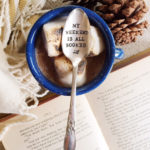 I know this is Monday, and you don't usually hear from me until Friday, but Christmas is just around the corner and gifts are on my mind.
Amanda Geaney, has created an amazing list of PERFECT gifts for that nerdy book enthusiast in your life. You know the type…always has a book in her hand…Oh, wait! That's you?
Well, these items don't have to be purchased as Christmas gifts. I suppose they could go directly into your own closet, on your finger, or around your neck. Curious yet?
CLICK HERE to find an amazing array of "bookish" items for the book lover in your life. (I can provide a list of my favorites if you're wondering. **Wink-Wink**)  There are also 9 GIVEAWAYS to add to the fun.
It's a holiday extravaganza to rev-up your gratitude before Thanksgiving Day arrives. Enjoy, y'all!
Today's Question:
What's your favorite bookish item? (Mine is the bookshelf made from reclaimed wood)