Please welcome my podcast co-host, Lyndsey Kirk! She is a young woman whose spiritual waters run deep as a campus pastor at Lawrence University in Wisconsin. If you haven't listened to one of our podcasts yet, REAL PEOPLE, REAL GOD, I hope you will soon!
From Lyndsey: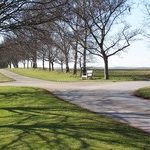 Have you ever been at a crossroads in life? Life is bearing down on you. Circumstances outside of your control are hemming you in and you can't find a way out. Or, maybe you have a big decision to make. You have multiple options and little clarity. Wouldn't it be great if a voice just spoke out of the sky in those situations? If God looked down and paved a road right in front of you in the direction you should take? Boy, that would be nice.
Pillar of Fire and Cloud
When I see how God leads the Israelites through the wilderness, I must admit I get a little jealous.
"And the Lord went before them by day in a pillar of cloud to lead them along the way, and by night in a pillar of fire to give them light, that they might travel by day and by night. The pillar of cloud by day and the pillar of fire by night did not depart from before the people." Exodus 13:21-22 (emphasis added)
He is literally lighting the way for them. How's that for abundant clarity and direction? But…not only does He lead them with the fire and cloud, He never leaves them. His guiding light, His presence with them in the wilderness, "did not depart." Can you imagine that constant and vivid reminder? What an amazing God!
But again I think, "Why doesn't our REAL GOD do this for me? Or something like it? Why doesn't he lead me and never leave me with His fire and cloud presence?" But you know what…He does.
OUR Pillar of Fire and Cloud
While God may not show up today in actual fire and cloud (though He certainly could), He is no less active in guiding us. He has given us His Spirit…which is also constant and amazing! Listen to this promise from Jesus.
"And I will ask the Father, and he will give you another Helper, to be with you forever, even the Spirit of truth, whom the world cannot receive, because it neither sees him nor knows him. You know him, for he dwells with you and will be in you."  John 14:16-17 (emphasis added)
An indwelling Spirit who lives in me?! Forever? Yes. Thank you, Lord. Our God is still in the business of guiding us with His ever-near presence. But I don't always "see" or "hear" His Spirit's guidance very well. Sometimes I think there might be something wrong with my spiritual receptors. Anyone else?
Why Can't I See You?
A pillar of fire and cloud would be a whole lot easier to see, but the Israelites struggled to trust the Lord even with that tangible sign of His presence (CLICK HERE to listen to last week's podcast). So, even if with a blinking neon sign, I still might not trust Him?
Some Possible Blinders:
Busy-ness – Our God is a Gentleman. He will not shout over the noise of an overly task-oriented life.
Sin – God desires a deep and intimate relationship with us. If we continue in sin once it's been revealed, the Spirit within us may be grieved into silence.
Practice – As with any relationship, the longer we know our God, the better we'll be at understanding His habits, whispers, and unique ways of communicating. The intimacy we experience in our one-of-a-kind relationship will grow over time.
The Safety Net
We established in an earlier podcast that my stupidity cannot override His sovereignty. Whew! That was good news! And it's good to remember that all things are in His capable hands, and in all things He works "for the good of those who love Him, and who have been called according to His purpose" (Romans 8:28).
But I still have to wonder…
How can I develop my spiritual eyes to see God's guiding pillar of fire and cloud in my life?
Spiritual Spectacles
Reading and studying His Word has been the best help to discover more about His nature and character–which helps me see Him more easily and accurately. The more time I get to know Him on the pages of His Book, the more I recognize His words when He writes them on the pages of my heart and life.
Fellowship with other Christians also helps me discern the whispers of His Spirit. When I can bounce ideas around with others who know Him and test out the things that sound like His voice and His leading, I can usually discover how to hear Him more clearly.
Sometimes, I just pray pray pray…and then pray some more. Oh, dear Lord, give us ears to hear and eyes to see. Attune our hearts to your guidance. Thank you for the amazing gift of your indwelling Spirit…forever!
Tweet-A-Licious!
Today's Questions:
What do you do when you're at a crossroads? How do you know when and where God is leading?
What do you do to sharpen your spiritual eyes to see God's guidance and activity in your life?