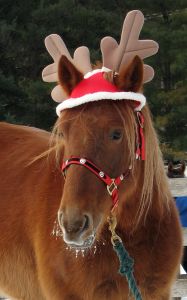 Okay, so the guy on the left isn't really Rudolph–but please tell me you've seen the classic Christmas TV special, "Rudolph the Red-Nosed Reindeer" (Rankin Bass, 1964). You know—the one where poor little red-nosed Rudolph gets left out of the reindeer games and runs away with Hermie the dentist-elf? Then, Rudolph returns to Christmas town just in time to lead Santa's sleigh on the foggiest Christmas in history—BECAUSE OF HIS BEAUTIFUL RED NOSE! What an awesome story, right?
Well, my question is—what happens when MY whole Christmas season feels like a fog? Where's Rudolph's handy red nose when I need it for more than one night?
A December Fog
Everyone experiences lousy days. Coffee spills. Computer crashes. Devastating emails or phone calls. It happens.
The hard part comes when those things keep happening or happen in rapid succession. That's what I call "Living in a Fog."
December has been tough this year. On one particular day, I rolled out of bed after a sleepless night—my tooth throbbing from a failed root canal. Knowing the dentist might pull the tooth, I asked hubby if he could accompany me. His schedule was packed—no go. I go to my general dentist who says he'll refer me to endodontist—the referral gets delayed.
I must wait another 24 hours for an appointment and endure another lost night's sleep.
Meanwhile—I've lost another day of writing. ZERO words done on my rough draft. No blog posts written. No editing. My inbox is overflowing. Should we talk about family issues? Nope. Won't go there.
And guess what? I turned 50—but wouldn't be able to eat at my favorite restaurant because of my stupid root canal!
And a ho-ho-ho holy December to us all! Grrrrr.
Ho-Ho-Holy Fog Light!
While I was waiting for Rudolph to show up, it occurred to me that Someone Else might provide a far more effective Light to guide me through this fog. Perhaps I should consider the Light of the World.
Duh.
During the month of December I've been reading a chapter-a-day in John's Gospel to see the Christmas story from his perspective. John writes with a pretty heavy-duty LIGHT theme…
"This is the verdict: Light has come into the world, but men loved darkness instead of light because their deeds were evil." John 3:19
Eeee-gad! Feeling a tad convicted, I needed to ask myself some questions about my fog:
Do I love darkness? Am I staying in the fog because I like to complain?
Is any part of the fog a direct result of sin in my life?
Do I

believe

that the Light of the World

can

guide me OUT of the fog?
How about you? If you're feeling a little foggy, do any of these pitfalls apply to you? It's a good first-stop on our journey out of the fog–to be sure we've got a clear path to the Light.
My Fog Lesson Collage: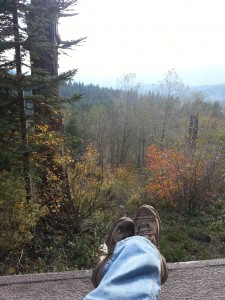 During my October and November writing retreats in our friends' mountain cabin, I took
several pictures that taught me some things about fog. I've listed my lessons and the Scripture with the picture below, but I'd love it if you add your own comments to the pictures.
#1 – Relaxing on a clear day, No fog in sight.
"Your word is a lamp to my feet and a light for my path."

Psalm 119:105
#2 – Fog in the valley; It's inevitable.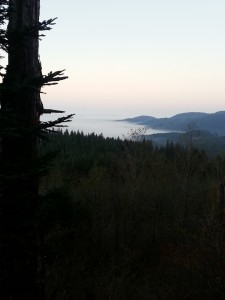 I can't stay on the mountaintop with the Lord forever. Life happens. Hardships come. Lord, give me strength to endure, wisdom to overcome, and grace to be pleasing in Your sight.
"No temptation has overtaken you except what is common to mankind. And God is faithful; he will not let you be tempted beyond what you can bear. But when you are tempted, he will also provide a way out so that you can endure it."

1 Corinthians 10:13

#3 – I can see only a few feet in front of me. I'll trust the Lord for what's down the road.
"Therefore do not worry about tomorrow, for tomorrow will worry about itself. Each day has enough trouble of its own."

Matthew 6:34
#4 – I'm in the thick of it—can't see, can't navigate…I can barely breathe.
Lord, help me!
"The Lord is close to the brokenhearted and saves those who are crushed in spirit. A righteous man may have many troubles, but the Lord delivers him from them all."

Psalm 34:18-19

#5 – Sometimes I must simply follow signs, do the next thing–because I must, not because I want to.
"Restore to me the joy of your salvation and grant me a willing spirit, to sustain me." Psalm 51:12
#6 – The Light of the World is burning away the fog, guiding me, saving me, calling me to trust Him.
"[Jesus] said, 'I am the light of the world. Whoever follows me will never walk in darkness, but will have the light of life.'"

John 8:12
#7 – When the fog clears, I realize there are others on this journey.
Fellow travelers struggle to navigate the curves and follow the same Light that guides me.
"Let us hold unswervingly to the hope we profess, for he who promised is faithful. And let us consider how we may spur one another on toward love and good deeds. Let us not give up meeting together, as some are in the habit of doing, but let us encourage one another—and all the more as you see the Day approaching."          Hebrews 10:23-25
May Your Foggy Days Be Few
As Christmas approaches, I pray that your foggy days are few. I pray that your bells jingle, your nights are silent, and days are merry and bright.
But I have a special prayer for those who are feeling a little Christmas fog:
Maybe you're missing a loved one
Spending Christmas away from family
Perhaps tight budget made gift-giving sparse
May the God who sent a shining angel to shepherds, announcing His Son's birth (Luke 2:9), and also sent a star to lead Magi from the East to herald the newborn King (Matthew 2:2)—may that same glorious God send His Light into your heart this Christmas and fill you with immeasurable joy.
Tweet-A-Licious!