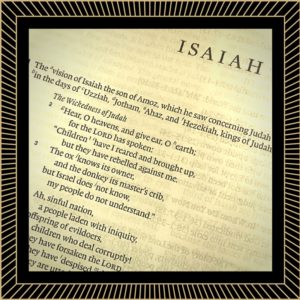 I attended my favorite annual conference—ACFW (American Christian Fiction Writers)—at the end of September. It's always fun to meet new-to-me authors—some published, some aspiring, and some so new to writing they're not even aspiring yet!  
At one lunch discussion, I met a sweet gal named—Jerusha. Upon hearing her name, I squealed, "I've never met a Jerusha!!" 
She looked rather startled. (I do that to people sometimes.) "You know who Jerusha is?" 
"Of course! She's King Uzziah's wife in the Bible." 
This sweet girl smiled and confessed she'd stumped many Bible nerds with her name. I wouldn't have known either unless I'd been studying Isaiah and the kings who reigned during his ministry. 
Silent Women of the Bible
Here's another woman I've read over at least a dozen times–Ahinoam. I knew one of David's wives was Ahinoam, but did you know King Saul's wife was also named Ahinoam?
And what about Job's wife? Scripture doesn't even name her. We only know her as the crotchety old gal that gripes at her suffering husband. The shepherd girl in Solomon's Song of Songs is another one who gets no name. At least we know she was loved. 
Isaiah's Wife
Isaiah's wife is another woman mentioned but given no name. The Bible does, however, give us a glimpse of this family's life and the involvement they had in Isaiah's ministry. 
"Then the Lord said to Isaiah, 'Go out, you and your son Shear-Jashub, to meet Ahaz at the end of the aqueduct of the Upper Pool, on the road to the Launderer's Field. Say to him, "Be careful, keep calm and don't be afraid."'" Isaiah 7:3–4 (emphasis added)  
We also know Isaiah's wife was a prophetess and that another son—Maher-Shalal-Hash-Baz—was born to her later in life: 
"Then I made love to the prophetess, and she conceived and gave birth to a son. And the Lord said to me, 'Name him Maher-Shalal-Hash-Baz.'" Isaiah 8:3 (emphasis added) 
Naming Isaiah's Wife & Sons
I ran into a little conundrum when I wrote Isaiah's Daughter because I'd included Isaiah's early years—including his betrothal, marriage, and birth of two sons—in a previous book (Love in a Broken Vessel). I couldn't choose random names or ages for their sons in Isaiah's Daughter because I knew some of you with great memories would catch me! 
So I went back to my research from Love in a Broken Vessel (the story of Gomer and Hosea) and tried to make names and dates match as closely as possible. Isaiah's wife was Aya in LBV, so she remains Aya in Isaiah's Daughter. However, because Isaiah and Aya had two sons early in their marriage, Maher-Shalal-Hash-Baz is a third son, born to them in their "old" age. (Old age in Isaiah's time was about 36-40 years old. How depressing is that?) I fictionalized the name of their second-born son, Kadmiel, which means: Presence of God. 
Who Is Aya?
Every character in a novel should have an "arc" or a journey in the story. A noticeable moral, physical, or spiritual change from how they start in the beginning to who they become at the end. Because Aya is considered a minor character, her arc isn't as pronounced as the main characters, but I hope you'll notice a major change from the young girl you'll see in the short story prelude to the strong and confident prophetess you meet in Isaiah's Daughter.  
Short Stories Begin Today!
If you haven't shared my newsletter yet with family and friends, please click one of the buttons below to share! They won't want to miss a single short story prelude! 
Tweet-A-Licious!
Today's Question:
Who is one of your favorite "quiet women" of the Bible? Someone who is only mentioned once or maybe not even mentioned by name?