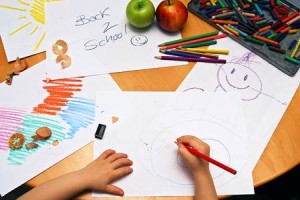 This fall marked my husband's first semester as interim dean, and he's loving it. But the truth is—he's also excited to continue teaching a few classes. Teaching is his passion.
If I were to ask him, "Who needs a teacher?" he would probably say, "We all do!" And then he'd launch into how good teachers ensure every type of learner is engaged in the classroom:
VISUAL LEARNERS understand best when information is presented through overhead slides, pictures, or handouts.
AUDITORY LEARNERS comprehend more when they hear a lecture or engage in discussion.
KINESTHETIC LEARNERS grasp truths most fully through experience—while moving, touching, and doing.
And, bless my husband's sweet heart, he never stops teaching. He was refilling the shower-spray bottle awhile back. "Now, you hold the refill bottle like this…" he said, carefully placing one hand on the grooved side of the very-full, brand-new refill bottle. "Then, you pick it up—" And about that time, the very-expensive shower spray blurbed all over the counter top, into the sink, and down the drain.
I tried not to laugh at my teacher.
Really, I tried.
Failed.
We all need teachers…especially skilled teachers of God's Word…
Needing More Than God's Presence
When Moses spoke with God on Mt. Sinai, he begged—actually, he demanded—that God go with them through the wilderness. Moses knew God's Presence was essential to communicate God's message.
More importantly, God knew the Israelites needed more than His presence. Like you and me, the Israelites needed to learn from a teacher (Moses) through visual, auditory, and kinesthetic means. Why do you think He instructed them to build the Tabernacle? Gave them the written Laws? Commanded the Israelites to participate in regular sacrifices?
Our Creator knows the needs of His learners and His teachers.
Judah Possessed God's Presence
Are you familiar with Israel's history? After King Solomon died, the single nation of Israel (comprised of twelve tribes) was split-in-two by civil war. The ten northern tribes maintained the name Israel, while the two southern tribes adopted a new national identity: Judah.
Judah's capital city was Jerusalem, in which stood the Temple that Solomon built. In that Temple, the Ark of the Covenant rested in the Holy of Holies, God's Presence hovering above its cover between the outstretched wings of cherubim.
On Judah's throne sat a king, always descended from the lineage of David—the man after God's own heart (with the exception of six years). And throughout Judah's history, priests and Levites served in Yahweh's Temple, preserving and teaching the Law of Moses for generations to come.
Israel Needed God's Presence
But what about the northern kingdom of Israel? They didn't have the Temple—actually, they built two temples in Dan and Beersheba and placed golden calves in them. Their priests were chosen without regard to birthright or creed. So, God sent His presence to live in Israel through His prophets, Elijah and Elisha. These miracle-working prophets faithfully taught the people of Israel with every learning style God placed in their repertoire.
Why Judah Had No Prophets (In Its Early Days)
I often wondered why Elijah and Elisha only ministered in Israel. I felt a little sad for poor Judah. But the LORD led me to this story about King Jehoshaphat. For a time, Judah's faithful kings were Yahweh's designated teachers.
"Some men came and told Jehoshaphat, 'A vast army is coming against…' Alarmed, Jehoshaphat resolved to inquire of the Lord, and he proclaimed a fast for all Judah. The people of Judah came together to seek help from the Lord; indeed, they came from every town in Judah to seek him."           2 Chronicles 20:2-4
Teaching By Example
Jehoshaphat resolved to inquire of the Lord—personally—and then others followed. Judah didn't need a prophet because their king led them by godly example. Yes, the Temple and the Ark stood on Mt. Zion, but the king SHOWED his nation they could approach the Throne of Heaven and reach for Yahweh from where they stood. And when they reached up, God reached down…
"Then the Spirit of the Lord came upon Jahaziel…a Levite and descendant of Asaph, as he stood in the assembly. He said: 'Listen, King Jehoshaphat and all who live in Judah and Jerusalem…"Do not be afraid or discouraged because of this vast army. For the battle is not yours, but God's…You will not have to fight this battle. Take up your positions; stand firm and see the deliverance the Lord will give you…Do not be afraid; do not be discouraged. Go out to face them tomorrow, and the Lord will be with you."'"                     2 Chronicles 20:14-15,17
Be A Teacher
The Scripture about Jahaziel reminds me that our God can speak to and through anyone He chooses. We simply need to be hanging out in the right crowd—with God's people, seeking Him.
Who needs a teacher? We all do. But we can also BE a teacher—each one of us can be God's voice of encouragement or exhortation—whether we speak, write, or serve quietly.
When we become believers in Jesus Christ, we are living temples of the Holy Spirit. We carry His presence wherever we go, empowering us to teach His message.
Tweet-A-Licious
Today's Question:
How do you learn about Scripture best? Sermons? Personal Devotions? Group Bible Study? Other: Explain__________________________.