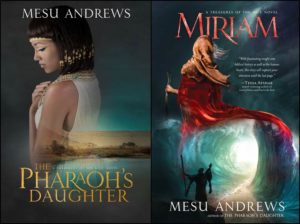 December has passed into January bringing with it hopes renewed! After celebrating the joyous birth of our Savior, we now focus on our dreams and goals for the new year.
As part of that celebration, I invite you enter Roy's Birthday Challenge for a chance to win the full set of the Treasures of the Nile series, which includes a copy of both The Pharaoh's Daughter and Miriam.
 Two Ways to Win
If you're not already signed up to receive my monthly newsletter, just enter your name and email address in the form at the right under "Newsletter Sign-Up."
If you are already signed up to receive my newsletter in your inbox each month, just leave a comment below–guessing which of my books was my husband's favorite–and you'll be entered!

Love Amid the Ashes – the story of Job
Love's Sacred Song – the story of young King Solomon (The Song of Songs)
Love in a Broken Vessel – the story of Hosea and Gomer
In the Shadow of Jezebel – the story of Queen Athaliah and Jehosheba
The Pharaoh's Daughter – the story of Moses' Egyptian mother
Miriam – the story of the Exodus through Miriam's eyes
If you do both, you get two entries!
No purchase necessary to enter or win.
Contest is open to US and international participants.
Contest begins when the post goes live and ends at midnight (EST) on Wednesday, January 11th.
Winner will be contacted through email. You have 24 hours to respond with your mailing address. If we don't receive your confirmation email within twenty-four hours, we'll need to choose another winner.
Confirmed winner will be announced on my blog and on my Facebook page.