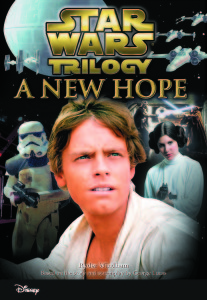 "A New Hope"
In my household of teenagers, this brings thoughts of a galaxy far, far away and an epic battle of good versus evil. Having grown up in the 80's, my own thoughts turn in that direction. The kids had to get their movie tastes from somewhere, right? But now, smack into my middle years, the phrase has taken on a new meaning . . . and an old one.
My life has not turned out the way I had planned. Big surprise, I know. There are times that fact discourages me. But my God is bigger than my plans and dreams, hopes and schemes.
"For I know the plans I have for you," declares the Lord, "plans to prosper you and not to harm you, plans to give you hope and a future." Jeremiah 29:11 (NIV)
The Lord has given me good things. He has never let me down, even when I couldn't see any hope or sign of his handiwork. There are times my insides quake with fear, but even then I know I can trust him to get me through.
When the Israelites were slaves in Egypt, they cried out to God but could not see his hands at work preparing a way. They could not see a young princess growing up with a fearful heart. They could not see her desire for a child. A desire so strong, she would defy the king and her people to save the son of a slave and raise him as her own. They could not see that Hebrew boy torn between the conflicting loyalties of two worlds.
"The Israelite cry for help has come to me, and I've seen for myself how cruelly they're being treated by the Egyptians. It's time for you to go back: I'm sending you to Pharaoh to bring my people, the People of Israel, out of Egypt." Exodus 3:9-10 (MSG)
They could not see it, but God was preparing a way.  All the way through the Old Testament, God has been preparing a way. He paved the way for Jesus who came to show us the way out of the desert and into his Promised Land. Even now, God has his hand in every detail of his people's lives, guiding, teaching, and shaping us for what is to come.
"We have this hope as an anchor for the soul, firm and secure." Hebrews 6: 19
With that promise, that hope, I can move through my life with confidence that God is moving before me, making plans and preparing a way. Many times, I cannot see the next step and sometimes I stray off the path, but I can rest, knowing that God will be beside me cheering me on and helping me to finish my race.
 What new paths has God led you down?