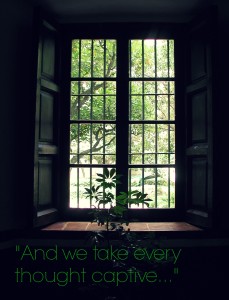 Our thoughts are in constant turmoil. Lists of things that need to be done yesterday, if not sooner. We pick at worries of the future like the loose thread of a sweater, each tug making it worse. We play with 'what ifs' the way kittens play with balls of yarn. Yet we are told to take every thought captive.
So how do we do it?
 We demolish arguments and every pretension that sets itself up against the knowledge of God, and we take captive every thought to make it obedient to Christ. 2 Corinthians 10:5
Well, it is something I have been struggling with and working on for a while now. I have a certain BFF who has been posting about it in her blog. 'If a random thought invades, return that thought to His hands in prayer and then refocus your heart on Him'. Hmmm, easier said than done! It seems that every time a thought invades, I begin praying only to be hit by another thought, then another and another. Before long my poor brain feel pretty beat up and -confession time- I give up.
I think this is going to be a long, hard journey. But I will endeavor to persevere. One of the tools I am trying to use is another verse.
Finally, brothers and sisters, whatever is true, whatever is noble, whatever is right, whatever is pure, whatever is lovely, whatever is admirable—if anything is excellent or praiseworthy—think about such things. Philippians 4:8
I figure one way to take those troublesome thoughts captive is to direct them into healthy avenues. When worries pop up, I change it to gratitude for what he has already done. When my temper gets the best of me, I think of the blessings that he showers me with. When I am discouraged and my behind is sore from kicking myself, I remember the hope that he has given, and remind myself that he isn't done with me yet.
A good man brings good things out of the good stored up in his heart, and an evil man brings evil things out of the evil stored up in his heart. For the mouth speaks what the heart is full of. Luke  6:45
As I change my focus to the true, noble and praiseworthy, I am finding it easier to take the thoughts captive and obedient. It is still a challenge. Most days it takes several tries to find the quiet spot that lasts only for a few moments.
But as my music teacher once said, 'Practice make proficient.'
So I will keep practicing, praying and captivating.