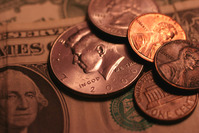 The word TRUST came to me in early January. As soon as I heard it, I knew that was what I would need to do and the last few months have shown me why it is so important.
Later that month our water heater died. The repairman said that he would send a bill. When it arrived, it was $739; we had $741 in savings. Praise God!
I visited my daughter in late February. My husband had the car serviced and had a minor repair completed but more things would be needed. Right after I returned, my husband found a screw in one of the tires. The mechanic noticed that something was dangerously loose. I tearfully asked for an estimate explaining my financial concern. The owner researched the part finding a cheaper alternative saving $40. When the work was completed, the bill was $367 and I had $372 in savings.
Within a week, a check engine light came on. I went back to the garage and was told I needed a new alternator. There wasn't enough in savings. My husband agreed to try to wait until we had the money saved understanding that the alternator could last 1 day, 1 week, 1 month, or even 1 year.
Last week, the check engine light came on in our truck. I prayed for healing for both vehicles. When my husband took the truck in for a diagnosis, we were told it needed a fuel pump sensor. I was worried. My husband and I argued. I went to town to run errands and again checked our savings. I had almost enough for the alternator but more than enough for the sensor. What now, Lord?
I was fired from an evil workplace environment over a year ago. We saw it as an opportunity and felt called to homeschool our boys. My husband has repeatedly told me that he does not want me to get a job. Yet after being laid off for two weeks himself, his discovery that he will be laid off for a third week in a row left me broken and grasping. I simply cannot save enough to make up for the loss of income. I felt as if I was drowning. I felt like fear and debt would certainly overcome me.
I've sought His wisdom…completed my first online Bible study, More than a Good Bible Study Girl, by Lysa Terkuerst, and am currently in a Bible study, I Know His Name, Discovering the Power in the Names of God. Each of these studies has brought me closer to trusting Jesus. I read Exodus several times while reading Miriam, furiously underlining new truths that God revealed. I recently finished reading Counted With the Stars by Connilyn Cossette. This book also talks about the Exodus of the Hebrews. I created a prayer board at home right next to my desk so that I could see who I had promised to pray for. Each of these things have helped my roots grow deeper into Jesus, but none of these have sheltered me from the crippling fear of lack of money.
One night at church while singing No Longer Slaves by Bethel Music, I was hit with the meaning of TRUST for me for today in my life. God has parted the sea for me, and I have already chosen to walk through it to freedom in the form of eternal life with Him. I cannot look back at the army of fear (in my case, fear of lack of money). I must choose to believe and live like he has drowned that fear just like He did Pharaoh's army. There are so many things, both people and resources, to be thankful for.
I realize that I have to TRUST God and the only way to consistently live that out is to pray for Him to drown the fear and refresh me.
What about you? Do you need to walk through the parted Sea to accept, by faith, God's eternal gift of salvation? Or do you need to trust Him to drown your enemy–fear, temptation, doubt, etc.–and keep your eyes focused on Him?